Reading Time:
7
minutes
The beginning of 2023 has been a positive trend for artificial intelligence (AI) tokens, with several, including FET, experiencing significant gains of hundreds of percentage points. FET is the native token on Fetch AI. Fetch AI is a blockchain platform that focuses on AI development and uses FET tokens as a payment instrument in its network. FET token users can access AI services such as information retrieval and automated trip planning. Discover more about FET tokenomics and its applications in the following article!
Article Summary
Fetch AI is a blockchain platform that combines blockchain machine learning and the crypto economy through FET tokens. The platform utilizes artificial intelligence (AI) to help individuals automate their daily activities.
FET is the Fetch AI platform's native token with various functions. They are used for staking, as a currency for payment of all transactions on the platform, and others.
Fetch AI collaborates with many companies to expand the use of their technology and increase their influence in various sectors. Examples include partnerships with Bosch, Catena-X, Datarella, LiquidChef, and others.
Overview of Fetch AI
Fetch AI is a blockchain platform that utilizes artificial intelligence (AI) to help individuals automate everyday activities such as booking parking spaces to buying flight tickets. The platform aims to combine the blockchain machine learning and crypto economy through the FET token.
FET is the native token on the Fetch AI platform, which has various functions such as for staking, as a currency for payment of all transactions on the platform, and others.
Humayun Sheikh and Toby Simpson built the platform in 2017 with a team of experts in their respective fields. The Cambridge, UK-based team focuses on creating decentralized infrastructure for autonomous agent AI. It allows agents to operate autonomously without the need for human intervention. Thus, AI applications in everyday life can be run automatically with Fetch AI technology.
To get a deeper explanation of Fetch AI and its use cases, you can read the article What is Fetch AI here.
FET Tokenomics
The Fetch AI team created an early version of FET as a standard ERC-20 token, which uses the Ethereum network. It allowed developers from all over the world to use FET and create new ideas for Fetch AI. However, in the long run, Ethereum is considered unsuitable for everything Fetch AI wants to do, especially regarding Ethereum's scalability issues.
Therefore, Fetch AI created its network, Fetch AI Mainnet, and created a new version of FET that can work on this network. However, the old version of FET still exists and can easily be swapped with the latest version using a bridge. In addition, FET is also a BEP-20 token that is compatible with the Binance Smart Chain (BSC) network.
FET Token
Fetch AI has its native token, FET. FET functions like a currency within the platform to pay for all transaction fees. Moreover, FET is also used for staking users who want to earn rewards while securing the network. Some other uses of FET include:
Connecting AI agents to the network: To connect and use the Fetch AI network, an AI agent uses FET tokens like a deposit to permit it to operate within the network. It can make it difficult for hackers to cause damage as it becomes too expensive.
Assigning AI agents to the network: Developers can use FET tokens to access machine learning-based tools to train and assign AI agents to the network.
Accessing smart ledger: The smart ledger in Fetch AI has much artificial intelligence (AI) and machine learning (ML) features, such as agent trust scores. AI agents need FET tokens to access these features.
Validating the network: To validate and build a reputation on the network, users can stake FET tokens to become validator nodes.
Being part of the digital economy: Once an AI agent is created, FET tokens can be used to exchange value with other agents on the network through the Open Economic Framework (OEF). Users can use FET tokens to pay for AI agent services or data from other agents.
FET Allocation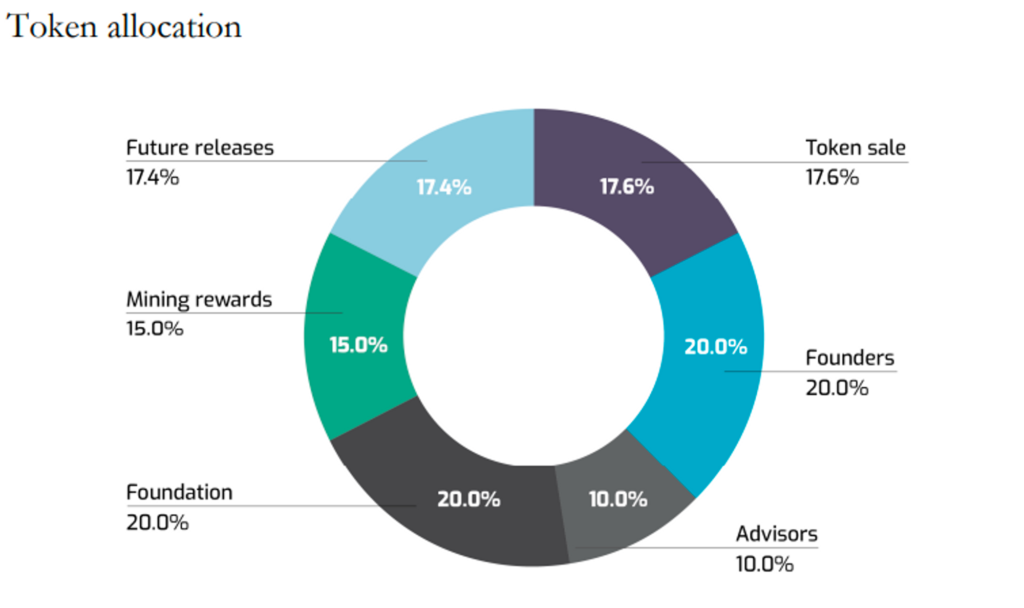 FET was launched in March 2019 through an Initial Exchange Offering (IEO) on Binance. FET has a total supply of 1,152,997,575. Of this total, the Fetch AI team divided FET for founders, foundations, and advisors by 50%. The rest is distributed for token sales, mining rewards, and future releases.
While the overall supply of FET tokens reached 1,152,997,575, some noticed that the total supply during the mainnet launch was lower at 1,055,156,116 FET. The team intended to mint the missing tokens as block rewards for the first three years of Fetch AI operations to compensate for this deficiency. Therefore, the team utilized 15% of the token supply for this purpose as mining rewards. Mining was named because Ethereum was still using proof of work at that time.
FET as an Investment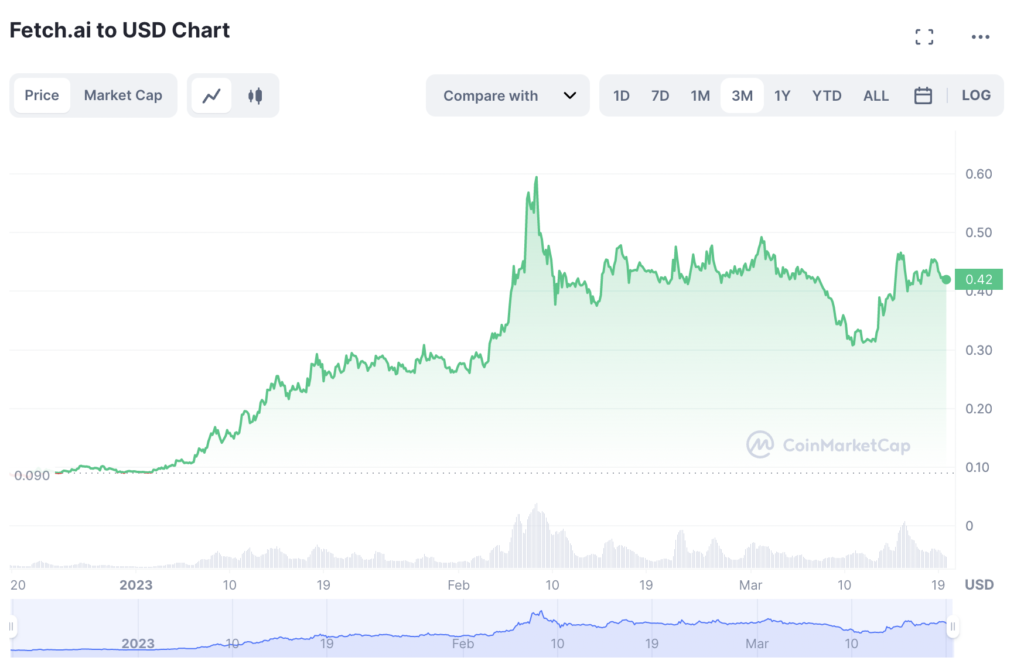 From the price chart above, on March 20, 2022, the FET price was at 0,42 US dollars, with a trading volume of over 90 million US dollars. Since March 11, 2023, the price of FET has increased by 34%. The increase also influenced by the Bitcoin price. From Coinmarketcap, FET is ranked 109th with a market cap of 344,949,451 US dollars.
Then, like several other AI tokens, FET has risen in price by almost 400% since the beginning of 2023. In addition to Microsoft's investment announcement in OpenAI, FET's rise was also influenced by Fetch AI's collaboration with German tech giant Bosch in February 2023. This partnership aims to utilize AI and Web3 technology for real-world applications that are useful for consumers.
To realize its mission of driving the advancement of AI and Web3 technology by creating a collaborative ecosystem, Fetch AI continues cooperating with various parties. Besides Bosch, Fetch AI collaborates with Catena-X, a data company, to create an automotive ecosystem. The focus is to build manufacturing and supply chain efficiency in the automotive ecosystem.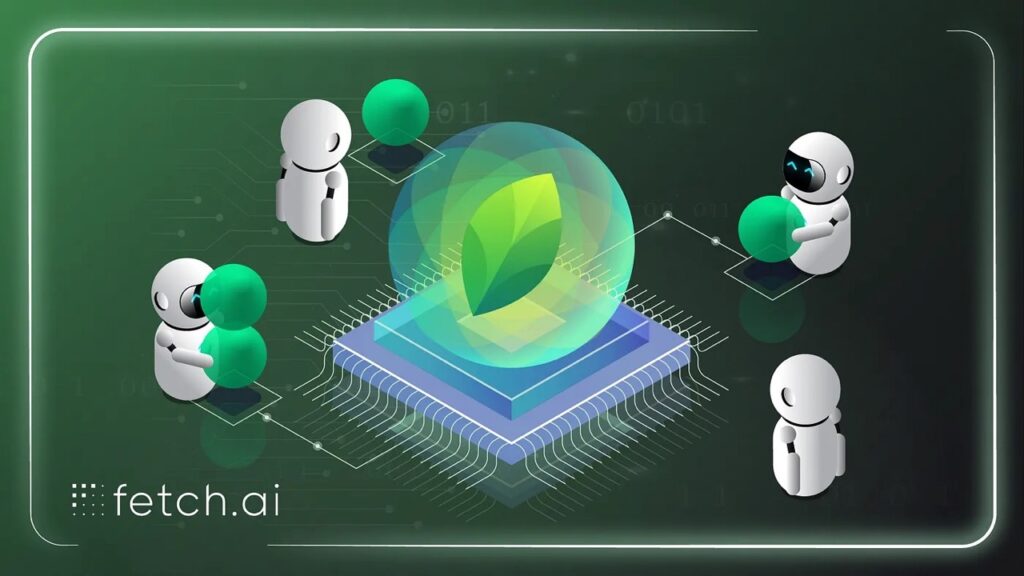 Fetch AI also established a partnership with LiquidChef, a portable bar provider. This partnership supports a transparent and sustainable supply chain using an autonomous AI agent (Digital Twin). To run Digital Twin, users need FET as a payment tool. The demo of the application of Fetch AI technology on LiquidChef was shown at the World Economic Forum 2022 in Davos, Switzerland.
Another collaboration from the sports sector, Fetch AI, is working with West Ham United Football Club as The Club's first Official Artificial Intelligence Partner. This football club utilizes Fetch AI technology for smart parking concepts, social media platforms, and several other smart solutions for West Ham United fans. You can see some of Fetch AI's collaborations with other parties here.
How Fetch AI Differs from Other AI Platforms
Compared to other AI platforms, such as SingularityNET and The Graph, each has a different goal focus. Fetch AI focuses more on developing decentralized marketplaces through multi-agents that allow different types of entities to interact with each other and make deals automatically without the need for intermediaries. Meanwhile, SingularityNET focuses on the collaboration and sharing of AI services. Then, The Graph focuses more on decentralized access to blockchain data and other decentralized networks.
In addition, Fetch AI combines blockchain AI and machine learning technology. It can potentially optimize resource use and improve efficiency in various aspects of life, thereby simplifying daily life. For example, in the energy, automotive, logistics, tourism, and DeFi sectors.
Read also What is The Graph (GRT)?
Fetch AI (FET) Roadmap
In 2022, Fetch AI upgraded the mainnet named "Capricorn." This upgrade improved the Fetch AI system to facilitate the Cosmwasm v10 virtual machine, making it possible to deploy Rust smart contracts to the mainnet. In addition, a BLS-based group signature model was implemented that enables multi-signature wallets, DAOs, and AI agent-based oracles.
Furthermore, the upgrade also allows FET-powered DeFi agents to be used on the Ethereum Virtual Machine (EVM) network. It will enable developers to build dApps and enhance the functionality of FET tokens within dApps.
On the 2023 roadmap, Fetch AI focuses on transitioning from research to product delivery, service improvement, and enhancing technology competitiveness. These goals include various domains, including ledger development, AI, notifications, AI agents, and the Fetch wallet. According to the official announcement, the team's initial focus starts with releasing a series of micro agents – the AI branch that Fetch AI is based on- and integrating them into the wallet.
Micro agents are like Digital Twin (AEA), but micro agents will allow new developers to scale projects faster.
Another roadmap is improvements to the Fetch wallet. These improvements include support for group messaging, voting on governance proposals, support for NFT collections, and enabling wallet staking capabilities.
Read also Understanding Self-Custody: How to Store Your Crypto Safely.
Conclusion
FET token has a lot of potential in the future. It is closely related to the advanced technology of artificial intelligence, which has yet to be fully used in transportation, healthcare, tourism, and other industries. The FET token serves as a link between the use of AI and blockchain. However, the success of the FET token depends on how many people start using it and become part of its network.
How to Buy FET Token on Pintu?
You can start investing in FET by buying it in the Pintu app. Here's how to buy crypto on the Pintu application:
Create a Pintu account and follow the process of verifying your identity to start trading.
On the homepage, click the deposit button and top up the Pintu balance using your preferred payment method.
Go to the market page and look for FET.
Click buy and fill in the amount you want.
Now you have FET as an asset!
In addition, the Pintu application is compatible with various popular digital wallets such as Metamask to facilitate your transactions. Go and download the Pintu cryptocurrency app on Play Store and App Store! Pintu is regulated and supervised by CoFTRA and Kominfo.
You can also learn more crypto through the various Door Academy articles which are updated every week! All Pintu Academy articles are for educational purposes, not financial advice.
References