Reading Time:
8
minutes
The crypto industry is a market with very strong narrative dynamics. At one point, a narrative about trading bots can capture the attention of investors but disappear after a few weeks. One month later, a new narrative suddenly emerges and dominates the market. One of the new narratives that is gaining popularity in the community is decentralized social media, also commonly called SocialFi. So, what is decentralized social media and how does it work? This article will explain it in detail.
Article Summary
😀 Decentralized Social Media or DeSoc is a blockchain-based social media protocol that is decentralized, transparent, and gives users ownership over what they create.
⚠️ Conventional social media platforms like Facebook and Twitter are criticized for excessive data monetization and complete control of the platform to the detriment of users.
🖥️ The DeSoc protocol integrates traditional front end with the blockchain back end. Therefore, the development of DeSoc applications is quite complex, requiring a balance between data security, ease of use, and scalability.
⚙️ Lens Protocol, Stars Arena, and Friend.tech are examples of decentralized social media applications that have evolved, offering unique features and incentive mechanisms to attract users.
DeSoc or Decentralized Social Media is a social media protocol that utilizes blockchain to store data and eliminate centralized control. So, what makes it different from the social media we use today? Why do decentralized social media protocols need to exist and be developed?
Decentralized social media protocols basically have no control over data and content, store their data in a decentralized manner, and do not monetize user data. All of this makes DeSoc protocols have a unique added value compared to social media applications such as Facebook and Twitter.
In recent years, many controversies have arisen from social media apps such as Twitter. Some of these include allegations of topic manipulation and excessive monetization of personal data.
In addition, companies like Google and Meta hold a monopoly in the social media sector, leaving users with no control over their own content and accounts.
So, the two main problems with social media apps today are:
Monetization of personal data: Meta and Google as the dominant companies have full control over each user's data. After creating an account, users automatically lose control of their personal data.
Too much control: Users of social media apps have very little control over their own accounts. Meta and Google have unilateral authority to limit activity, close accounts, and regulate what appears on our social media. Social media like Twitter is often used as a political tool to censor certain political opinions. Content and user accounts can be suddenly shut down without notice by both companies.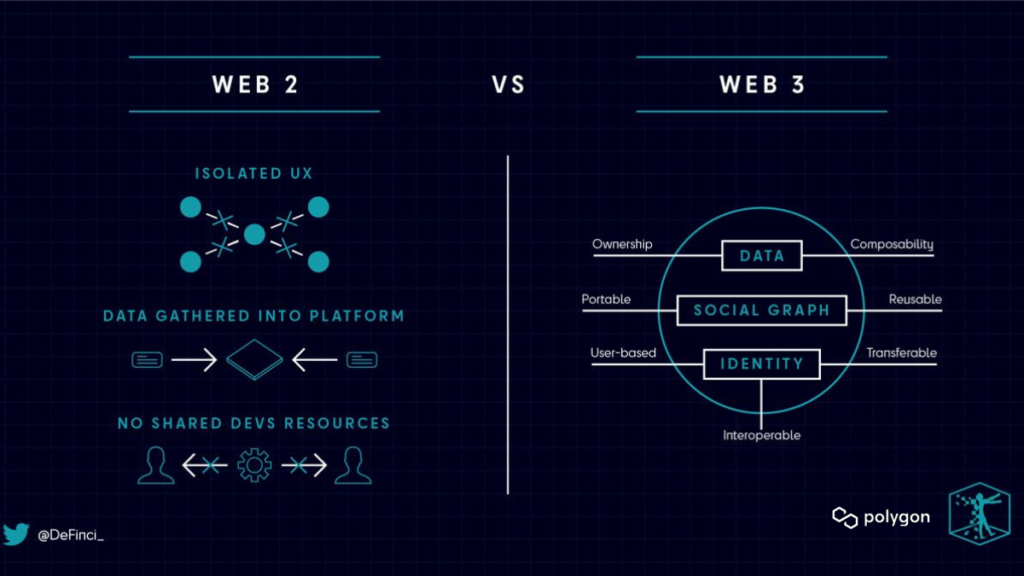 Decentralized social media protocols are quite complex as they combine elements of a traditional front end and a blockchain back end. The development team also has to determine what will be stored on the blockchain as it is often still expensive.
In addition, decentralized social media needs to integrate web3 elements such as NFTs or crypto assets. In this context, decentralized social media is also often called SocialFi because it combines social elements and financial incentives.
Here are four elements of decentralized social media:
1. Blockchain as a Data Repository
Decentralized social media must utilize blockchain as a place to store data to create transparency and keep personal data safe. Sensitive data stored on the blockchain is more secure than stored on regular servers.
If decentralized social media protocols store their data on the blockchain, this will decrease scalability as the costs required will be huge. Conversely, if the data is stored on a server, the security of the protocol automatically decreases. The development team still has to find a middle ground, such as utilizing cheap blockchains other than Ethereum and Bitcoin.
2. Smart Contracts
Decentralized social media protocols must be built using smart contracts like other DApps. All user interactions will also be connected to smart contracts on the blockchain. Therefore, smart contracts are an important element that determines the success of the protocol. Hacking through loopholes in smart contracts has happened very often in the DeFi world. So, auditing, verification, and opening smart contracts to the public are very useful to prevent hacking.
3. Private Key and Public Key
Ideally, decentralized social media protocols utilize crypto-asset security technologies such as private key-public key or NFT as another web login method3. Again, this ensures better security to prevent account theft. The use of private keys or other web3 methods can prevent hacking and data theft, which is very common in social media.
4. Incentive Mechanisms and Tokens
Decentralized social media apps usually integrate incentive elements through crypto. In addition to attracting users, this is also done to provide ownership of the accounts and content that each user creates. For example, creators in Lens Protocol can restrict access to content to only certain tokens or NFT holders.
Tokens as an incentive mechanism have also proven to be very effective in attracting users. Friend.tech has a point system that will be given out in airdrops every week. This point system has successfully attracted thousands of users to its platform.
However, like DeFi or DEX apps, the use of incentive mechanisms adds complexity to the app and developers need to create a sustainable system. The worst thing that can happen is that users only use the platform to get benefits and then disappear after getting them.
1. Lens Protocol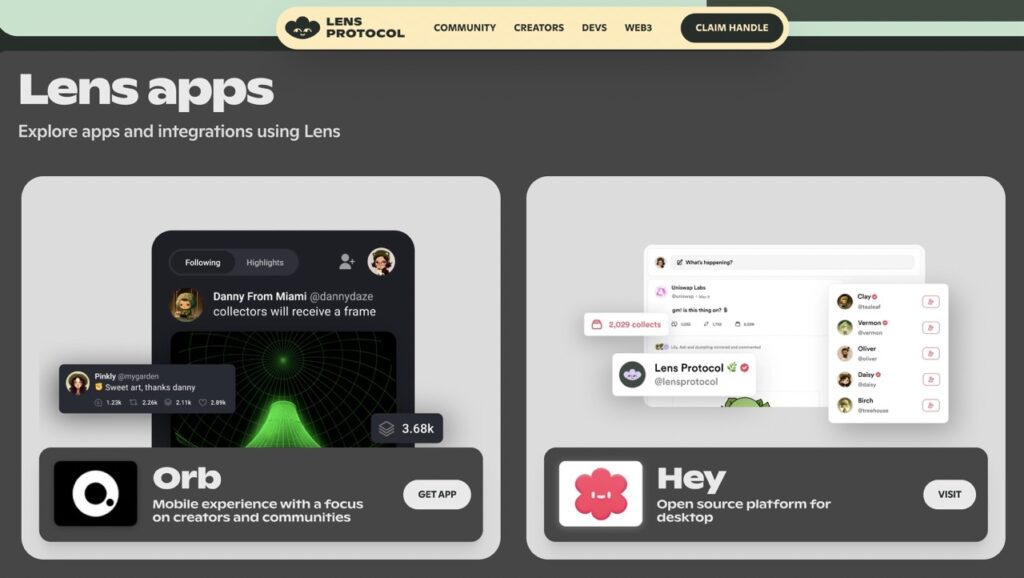 Lens Protocol is one of the largest decentralized social media applications built on top of the Polygon network. Rather than a single app, Lens is an ecosystem that allows developers to build various apps on top of Lens. Furthermore, Lens is modular so developers can alter many of its elements.
One of the unique features of Lens is that you can use your profile across all applications in the Lens Protocol ecosystem. This creates a consistent social media profile across all apps on Lens. The release of Lens V2 will also unveil new features such as a social media manager for multiple profiles and Open Actions that can integrate features from other Dapps such as mint NFT.
Currently, Lens has 125,000 profiles and is still in the testing phase. Users who want to use Lens must enter the queue list before they can create a profile. Some of the apps you can use on Lens are Hey (Twitter-like social media platform), Riff (music platform), Dumpling (streaming platform), Tape (video platform), Buttrfly (image-based social media platform), and Orb (Twitter/Reddit-like social media platform).
2. Friend.tech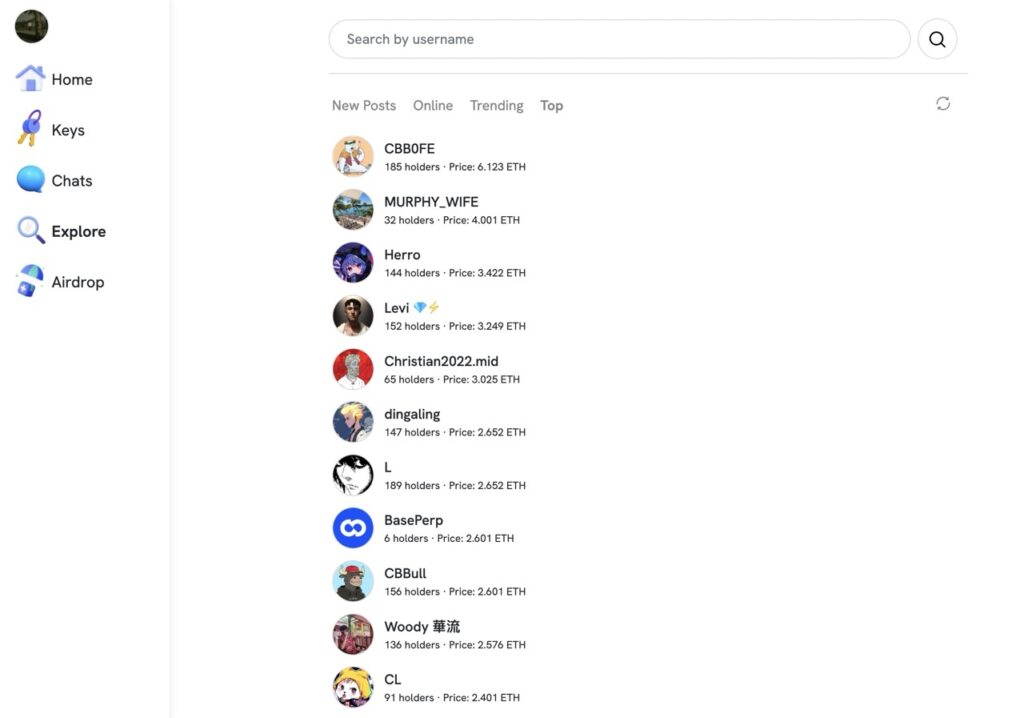 Friend.tech or FT is a decentralized social media application in L2 Base with a very strong financial incentive aspect. FT is one of the latest iterations of the SocialFi app that combines messaging, social media, and trading applications. In Friend.tech, you can purchase keys to gain access to messaging rooms with that person.
FT is often labeled as a "marketplace for your friends" because you are speculating by trading other people's accounts. Friend.tech tokenizes the social value of each user.
Many well-known crypto asset influencers have achieved very high prices on FT. So, many people use FT as a private group to learn trading, share trading signals, and the like. FT has a total of about 831,000 users
Recommended Reading: What is Friend.tech and why is it popular?
3. Stars Arena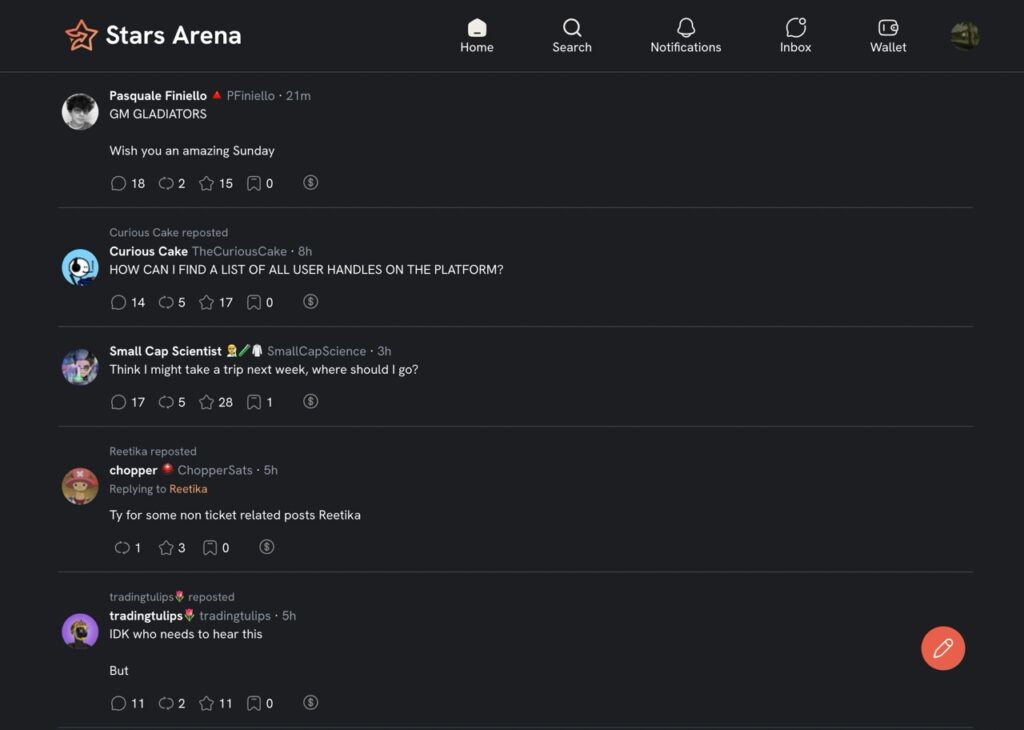 Stars Arena is a decentralized social media application in Avalanche that integrates several financial elements. SA capitalizes on the momentum of the SocialFi trend started by Friend.tech. However, unlike FT, Stars Arena has a very similar look and function to many social media such as X (Twitter) and Facebook.
You can directly interact with others without having to buy keys like in FT. The Stars Arena interface is very similar to Twitter where you can follow others, reply to what they write, and write your own content. Furthermore, just like FT, you can buy keys (Stars Arena calls them shares) and get into a private group with the account you bought and others who also bought it.
You can directly access and participate in Stars Arena by connecting your X account to SA. If you're just curious, you don't need to buy shares in StarsArena and just interact with other users. SA has about 36,000 users.
Decentralized social media or DeSoc is one sector that has great potential to attract many new users. With such a large number of social media users (about 4.9 billion in the world), the web3 world also needs its own social media. Currently, there are efforts to create decentralized social media with features such as financial incentives through tokens and permanent on-chain ownership.
Lens Protocol, Friend.tech, and Stars Arena are three different ways of developing DeSoc applications. They have their own advantages and disadvantages and target different types of users. Protocols like Lens and Farcaster want to create their own ecosystem like Meta and Google while SA and FT are applications that want to interact directly with users.
However, decentralized social media applications have not managed to attract significant users. Friend.tech has the most users but various metrics show that this number continues to decline. Stars Arena and Lens also face their own problems, such as hacking and insufficient infrastructure to accept a large number of users.
However, the pros of decentralized social media are clear. Decentralized social media offers an open protocol that can be used by anyone, provides data transparency, and gives users ownership over their content and accounts.
Now we just have to wait to see which decentralized social media project catches the attention of crypto asset users and is then adopted more widely.
Conclusion
The crypto industry continues to innovate and new narratives such as decentralized social media (DeSoc) or SocialFi are becoming hot topics. DeSoc offers solutions to the issues faced by conventional social media platforms, namely the monetization of personal data and complete control by large corporations.
Decentralized social media protocols use smart contracts, leverage security through private keys, and give users ownership over their accounts and content. Popular applications such as Lens Protocol and Friend.tech are among the efforts to create DeSoc. Decentralized social media protocols promise greater transparency, security, and control to users.
How to Buy Cryptocurrencies on the Pintu App
You can start investing in cryptocurrencies by buying them on the Pintu app. Here is how to buy crypto on Pintu:
Create a Pintu account and follow the process of verifying your identity to start trading.
On the homepage, click the deposit button and top up the Pintu balance using your preferred payment method.
Go to the market page and look for your favorite asset.
Click buy and fill in the amount you want.
Now you are a crypto investor!
You can trade various cryptocurrencies on Pintu such as BTC, ETH, and SOL. In addition, the Pintu application is compatible with various popular digital wallets such as Metamask to facilitate your transactions.
Go and download the Pintu cryptocurrency app on the Play Store and App Store! Pintu is regulated and supervised by Bappebti and Kominfo.
You can also learn crypto through the various Pintu Academy articles which are updated every week! All Pintu Academy articles are for educational purposes, not financial advice.
References