Reading Time:
12
minutes
Cryptocurrency play-to-earn games can be intimidating for new gamers. But, this is not the case for My Neighbor Alice. My Neighbor Alice is a game that combines the concept of a multiplayer builder with several decentralized financial components, with a gameplay that is interesting for both who are in it just for the fun or for the money. Let's find out more about the game in this article.
block-heading joli-heading" id="article-summary">Article Summary
My Neighbor Alice is a multiplayer builder game with an open-world concept. Players can build their world using NFT-based assets, as well as interact and engage in activities with other players.
My Neighbor Alice has staking and NFT rental features, allowing players to earn passive income. There is also a collateral-filled NFTs (cNFTs) feature that can provide instant liquidity for players.
My Neighbor Alice has its in-game currency, the ALICE token. ALICE serves as a governance and investment token in addition to being utilized for in-game asset transactions.
What is My Neighbor Alice?
My Neighbor Alice is a play-to-earn GameFi with a multiplayer builder genre that allows players to create and own virtual lands and create their virtual worlds. In My Neighbor Alice, players can explore, collect items, garden, and build buildings and a virtual city. The game has a similar concept to Animal Crossing, one of the most popular community-centric games.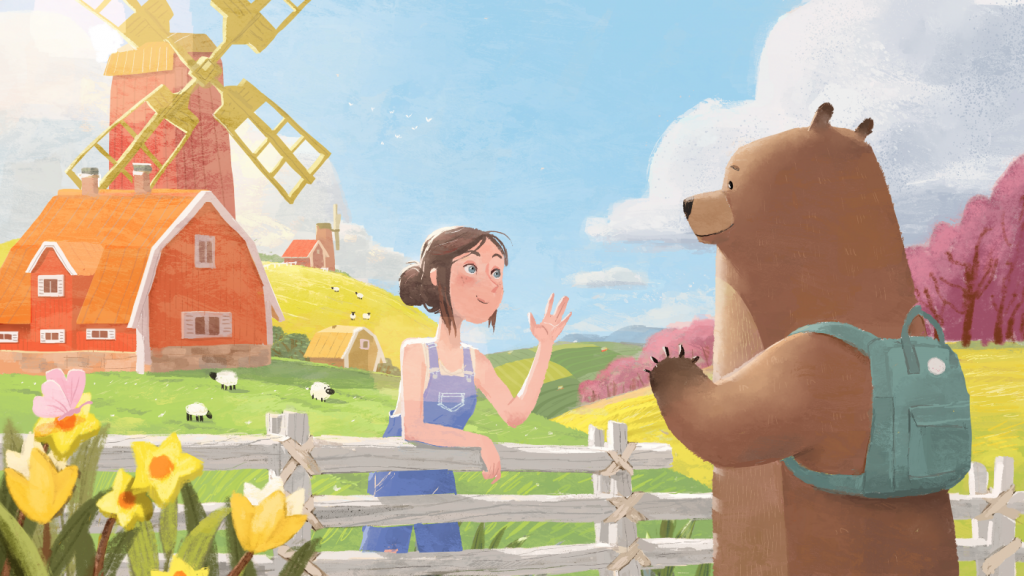 In My Neighbor Alice, players can socialize with their neighbors (other players), take part in daily activities, and get rewards. To enter the world of My Neighbor Alice, players must purchase a virtual land called plot land. Then, on the virtual land, players can carry out various activities such as insect hunting, fishing, gardening, to raising an animal. The status of players in the game will increase as they complete various activities, missions, and competitions.
The assets in My Neighbor Alice such as buildings, decorations, animals, plants, and so on, are Non Fungible Token (NFT). Therefore, in My Neighbor Alice there is also a marketplace that allows players to buy and sell various NFT and in-game items.
💡 As the name implies, the main character in My Neighbor Alice is a girl named Alice. She has friends like Bjorn the Bear, Jose the Shipwright, and Bob the Beekeeper in the Lummelunda Archipelagos, the game's main setting.
At the time this article was written, My Neighbor Alice is still in the testnet environment phase, which is an approach for developers to test the project's functions before it is available to the public. The game has already finished its first Alpha Season, which was limited to players who have bought a land plot. However, the game will be accessible to everyone when the mainnet launches.
Moving ahead, Antler Interactive will continue to release the new Alpha Season based on My Neighbor Alice roadmap, while also keep selling the land plot. Additionally, My Neighbor Alice plans to begin its beta season in 2023.
This game has a free-to-play concept so that anyone can play it without paying anything. However, players need to own ALICE, the native token of My Neighbor Alice, to purchase various in-game items and land plots. ALICE is an ERC-20 token that can be stored on an exchange or on a wallet compatible with the Ethereum blockchain.
You can learn more about GameFi in this following article
My Neighbor Alice Developer
Antler Interactive, a Swedish interactive game studio, is the development team behind My Neighbor Alice. Antler Interactive has a reputable name in the game industry because it pioneered Virtual Reality (VR) games. Back when they were still called SVRVIVE Studios. Some popular games produced by this game studio are The Deus Helix and Krystopia.
In 2019, Antler Interactive was acquired by ChromaWay, a blockchain development company behind Chromia blockchain. The CEO of Antler Interactive, Anna Norrevik, also has a solid financial background and knowledge, as she held strategic positions at Accenture and Credit Suisse.
So far, Antler Interactive has collaborated with various partners to continue developing My Neighbor Alice. Companies such as Bounce Finance, The Sandbox, and the fashion brand, Elle. On the funding side, My Neighbor Alice has also raised US$2.1 million in two funding rounds from VC funds such as Coin98 Ventures and Kyros Ventures. They also raised US$100,000 in an IDO round on DAO Maker.
How Does My Neighbor Alice Work?
My Neighbor Alice game is built on the Chromia network. Chromia is a Layer-1 blockchain but can also function as Layer-2 for Ethereum and other EVM compatible chains, such as the Binance Smart Chain. Chromia allows My Neighbor Alice to bypass performance issues caused by server or network capacity limitations. It also allows potential players to play the game without owning a specific crypto asset.
NFT on My Neighbor Alice uses the Chromia Originals network. The advantage of this network is that it can store and provide complete information. It is because the use of relational database architecture increases data storage efficiency, especially in text format. Through Chromia Originals, My Neighbor Alice players can easily transfer asset ownership.
Don't forget to learn more about NFT and it's usefulness through this article
My Neighbor Alice is run by a Decentralized Autonomous Organization (DAO) called the Community Council. With the DAO, game development is more democratic as players can determine the source code used or the necessary updates. As explained above, in My Neighbor Alice, the native token is ALICE. These tokens allow their owners to play, invest, and make a transaction within the game.
How to Play My Neighbor Alice Game
My Neighbor Alice has completed Alpha Season 1 on August 31st, 2022. Thus, for those interested in playing this game, you need to wait for a while because My Neighbor Alice cannot be played at the moment.
My Neighbor Alice's gameplay is not much different from builder games in general. My Neighbor Alice also adopts an open-world format where players can create buildings and assets using existing materials.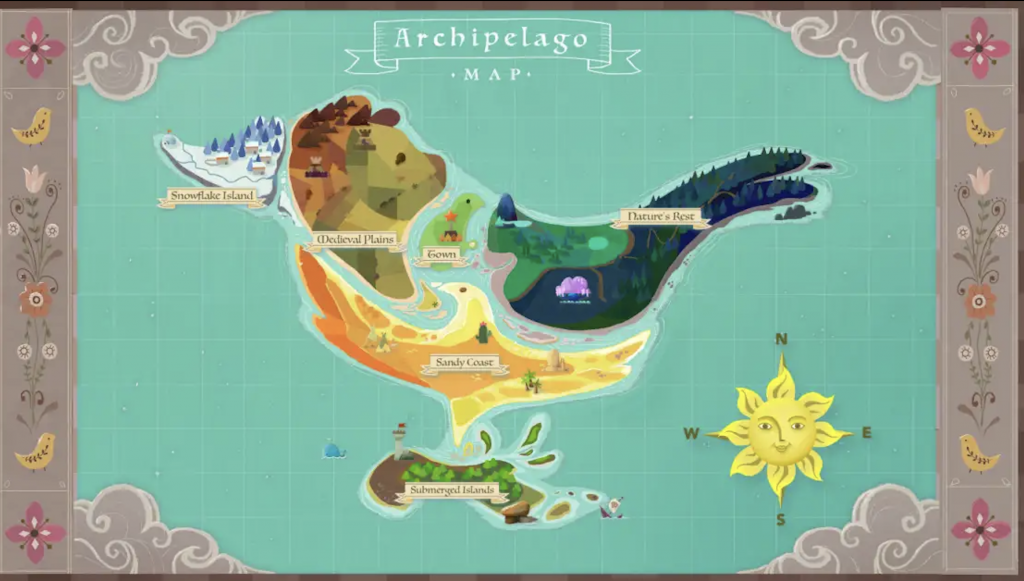 Each player must own a plot of land if they want to play My Neighbor Alice. To get the land plot, players can participate in sales sessions by My Neighbor Alice or through the marketplace.
In the following article, you can see a list of 8 popular marketplaces on the Ethereum network
💡 However, this land plot cannot be owned by everyone, given the limited supplies. This is done to help maintain the value of the NFT. Therefore, the rarer an asset, the more expensive it can be.
In the previous land plot sales session, Tourney Wolds, it was recorded that 1,000 lands had been sold. As many as 975 land plots were sold through an auction mechanism, and the rest through a lottery mechanism. In the auction mechanism, the initial price opened for the land plot is 50 ALICE.
For those who don't have an island, that doesn't mean you can't play My Neighbor Alice. You can still play the game, but with more limited features and access.
After having an island, players can manage the island by farming or raising animals. Players can also travel to various islands and interact with other players and characters in the game. Even though it has an open-world format, My Neighbor Alice still has a storyline that players must complete. For example, interacting with other players and completing missions in the game.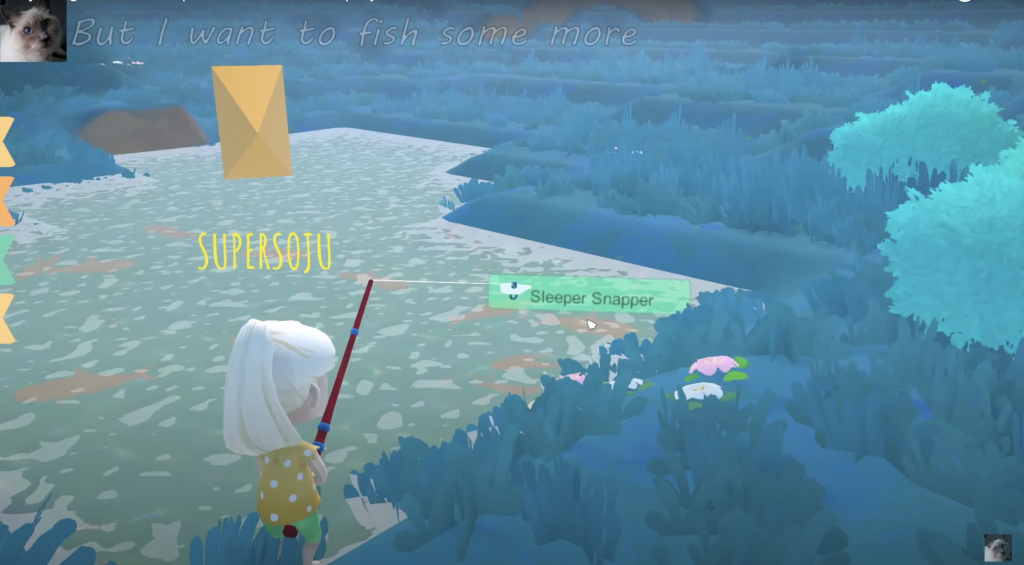 As in Alpha Season 1, players get a mission to catch some fish. If you complete the task, players will get rewards that can be used to buy items in the game.
My Neighbor Alice Game Features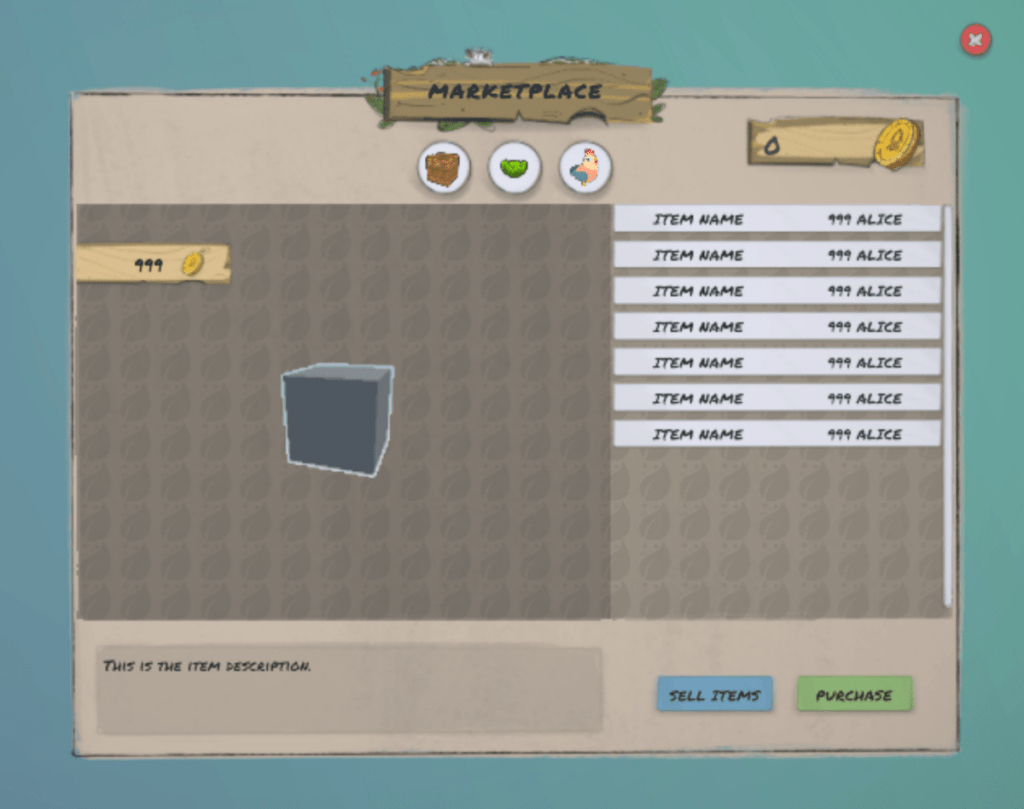 My Neighbor Alice offers a virtual marketplace as the main feature, where players can buy and sell their assets, such as land plots and other in-game items. Also, these NFT-based in-game items can be created using NFT creators, and players can also monetize their design skills.
In addition to buying and selling assets, My Neighbor Alice players can rent their assets to other players. This allows players who lend their assets to earn rewards from the tenants. Meanwhile, tenants can access various items without having to buy the asset. Thanks to the smart contract in ALICE, players who are not the official owners of assets will not be able to sell or lend these assets to other users.
Don't forget to read the following article abot NFT minting to better understanding about NFT
Staking
As a DeFi, My Neighbor Alice has a staking feature in the game. As a result, players can stake their tokens to get passive income. Based on the development team's explanation, the rewards will much greater when the game is still in the early stages of development. It will gradually decline as the development progresses and various features are added.
In running the game, My Neighbor Alice uses a DAO called Community Council. This allows players to contribute and decide how the My Neighbor Alice game develops. Through a voting mechanism, the Community Council can participate in making decisions regarding proposal updates, platform operations, and protocol changes. This feature further strengthens players' ownership of the My Neighbor Alice game and its assets.
You can learn more about how DAO work in the following article
The Uniqueness of My Neighbor Alice Game
One of the uniqueness of the My Neighbor Alice is the development that focuses on two demographics: casual gamers and DeFi fans or crypto gamers. This makes My Neighbor Alice unique in terms of usability. For gamers, My Neighbor Alice offers technology that can be used to create an open-world game ecosystem. As for DeFi fans, the game provides an NFT rental and other features.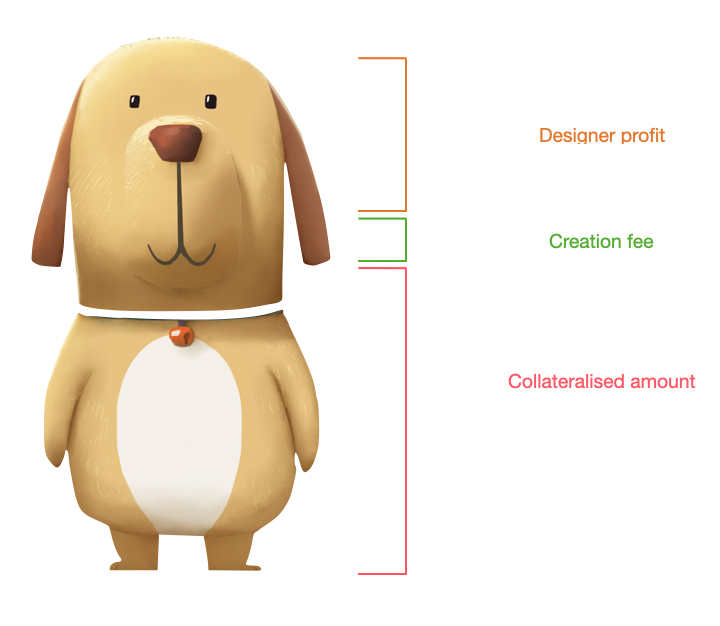 Regarding NFT, the assets in My Neighbor Alice have a unique position because they can be used as collateral-filled NFTs (cNFTs). The cNFTs are an attempt by the game's development team to provide instant liquidity for players who want to sell their NFTs. So, when a player wants to sell their NFT, but there are no interested buyer, Alice Foundation can lock up the NFT and in return, the players will be provided with funds in amount equivalent to the agreed-upon guarantee. When the owner returns the funds, the NFT will resume its function.
In addition, using Chromia Originals allows My Neighbor Alice to provide complete information and data storage for an NFT. It is because Chromia Originals uses the relational database architecture. So, it will increase the data storage efficiency, especially in text format. As a result, Chromia Originals can store terms and conditions in its metadata. Including artist names, project names, and references to prove authenticity.
Another uniqueness of My Neighbor Alice is a marketplace that can cross the network to other relevant blockchains. It means the liquidity and interest could increase. Also, cross-network marketplaces can also be used for marketing purposes. But, in its whitepaper, the My Neighbor Alice team mentions that the main target of this game is not crypto gamers. Therefore, this feature has a "minor" priority.
Find out about DeFi and how its work in the following article
How to Earn Money from playing My Neighbor Alice?
One of the main visions of My Neighbor Alice is the entrepreneurial sandbox, where the players run the economy of the game. Doing so creates many opportunities for players to earn money from this game.
Farming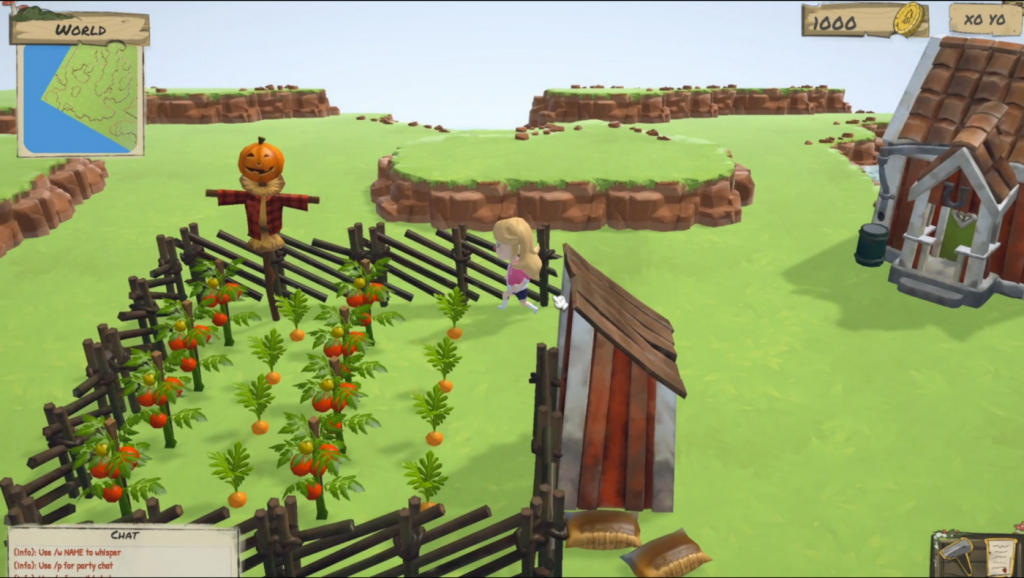 The main task of the players in My Neighbor Alice is taking care of the land plot by farming. Players can grow plants, which can later be harvested and sold to other players. Therefore, they must take good care of the plant if they want to sell it for a high price.
Raising Animals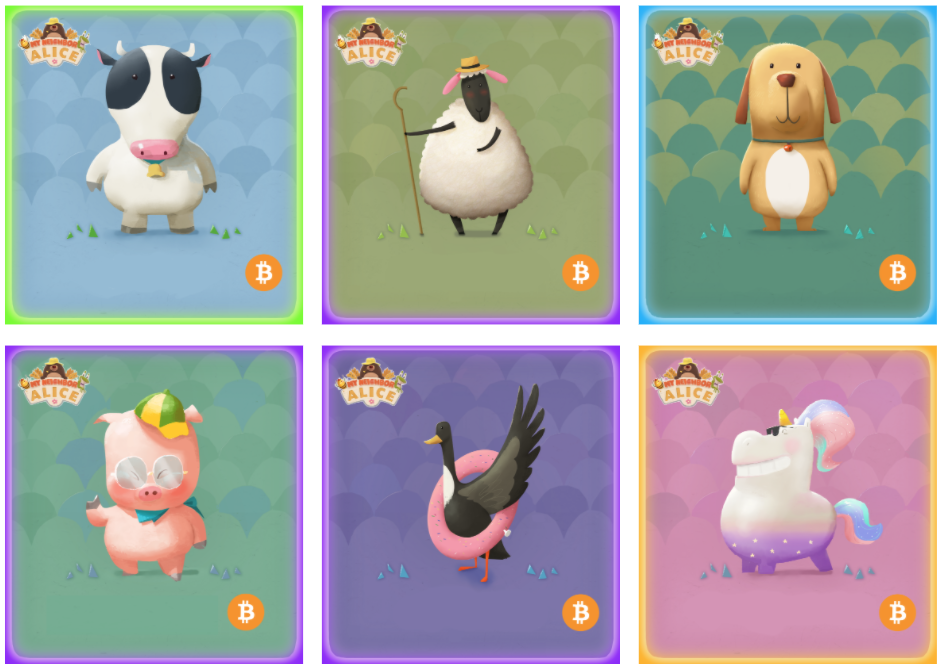 The animals in My Neighbor Alice are NFTs with the power to create new objects from existing objects. For example, after harvesting cotton from a land plot, some animals will help to process the cotton into yarn. Moreover, some animals can help make yarn into clothes or dye the clothes as the desired color.
Later, you can sell these processed products to earn money or use them for your avatar. Also, these animals can also be traded in the marketplace. The more unique and rare the animal's abilities, the more expensive it can be. Based on the marketplace, the cheapest animal prices are currently around 670 ALICE, while the most expensive one is 100.000 ALICE.
Finishing Other Players Jobs
If you don't have any land or animals, you can still earn money by completing the work of other players. Some players may need help watering the plants on their land plot or taking care of their animals. A well-groomed plant will produce a better harvest, and a well-groomed animal reproduce better. Thus, some landowners will need help from other players for all those tasks.
arbitrage">Resource Arbitrage
Traveling to another island is one of the activities in My Neighbor Alice. You will meet other players and see their farms, animals, creations, and furniture. You might find cheaper items on another island if you're lucky enough. These dynamics allow you to act as a merchant, buying and selling goods across the world to make a profit.
Exclusive NFT Trading
Hats and clothes are another assets in the game that players can make. Since every piece of clothing is NFT, you can sell it to other players. The more unique and attractive the design of a piece of clothing is, the more expensive it has the potential to be.
My Neighbor Alice Token
ALICE is an Ethereum-based token, otherwise known as ERC-20. Like other tokens, you can buy, sell, or store the ALICE. This makes the actual value of the digital assets in My Neighbor Alice will be affected by the valuation of ALICE itself.
The function of the ALICE token in the My Neighbor Alice ecosystem is as follows: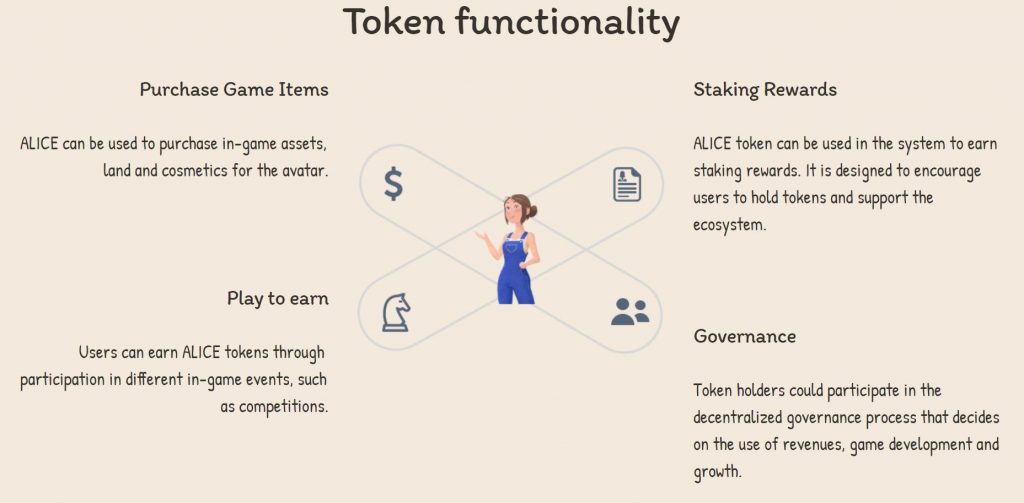 Payments: ALICE is the currency used in the My Neighbor Alice ecosystem. So, any transaction for various assets and in-game items will have to use ALICE.
In-game rewards: By taking part in different in-game activities, such as competitions, players can earn ALICE tokens.
Staking: You can stake your ALICE and get the rewards in the form of ALICE. The goal is to persuade people to hold tokens and invest in the ecosystem.
Governance: By having ALICE, players can participate in the governance process to determine the game's policies, as well as its development and expansion.
In the following article, you can find out about the benefit and how staking works
ALICE as Investment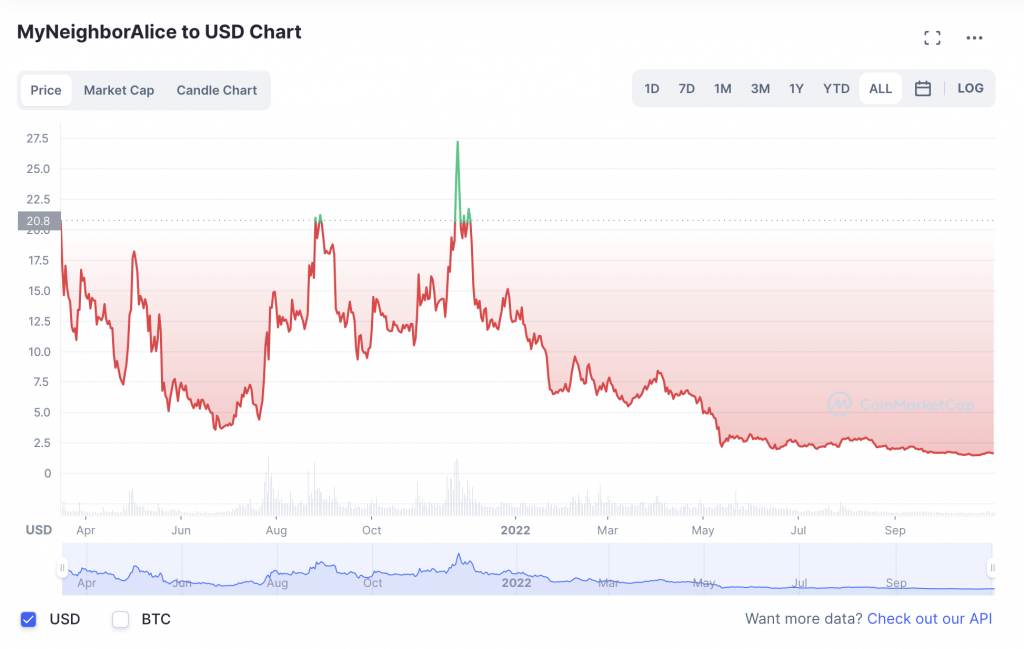 Based on the graph above, you can see that the price of the ALICE token has dropped from the initial price when listed on Coinmarketcap. Actually, when listed on Binance, the listing price of ALICE was 0.1 US dollars. It means the ALICE token had increased up to 600x before finally closing at 20 US dollars. From that point, ALICE continued to decline.
The price of ALICE tokens only manages to pass the listing price a few times and tends not to last long. The first significant price increase occurred in August 2021, when the price rose to 21 US dollars. At that time, the increase was triggered by the sale of NFT sales on Binance, the sale of the first land plot, and the launch of the mobile game. Then, in November 2021, ALICE broke an all-time high of 28 US dollars. This happened following the announcement from ALICE's development team about the plan to develop a game launcher.
Currently (as 11 November 2022), the price of ALICE tokens is at 1.27 US dollars with a trading volume of 48.99 million US dollars
The ALICE token has a total supply of 100,000,000 ALICE. Below is the distribution of ALICE tokens: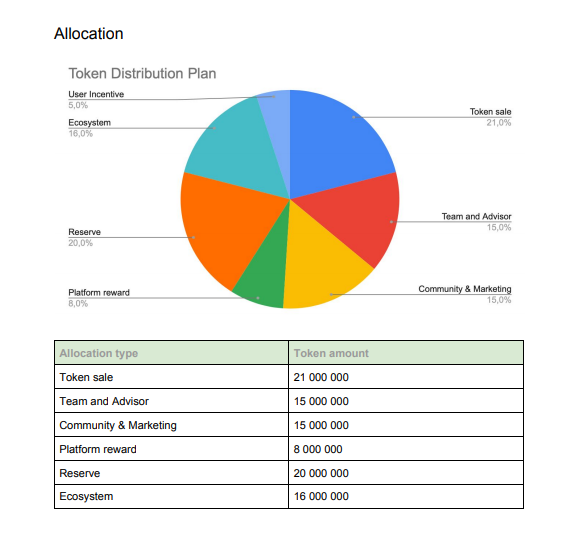 My Neighbor Alice seeks to combine DeFi features, such as a lending and borrowing system that allows users to generate profits by lending NFT with a unique open-world gaming experience. This game also targets casual and crypto gamers, so My Neighbor Alice has wide potential target users. In addition, the GameFi and NFT industry is still in its early stages and will continue to grow. Inevitably, the development and the launch of the game are interesting to wait for.
However, because this game has not officially launched, all possibilities can still happen. Will the development of My Neighbor Alice go according to the roadmap and run smoothly? Also, will this game be successful when released to the public? How would the gamers and crypto investors react to this game? Ultimately, you should reconsider all these aspects before investing in ALICE.
Don't forget to read the following article about crypto investment strategies
How to Buy ALICE at Pintu
You can start investing in ALICE tokens by buying them in the Pintu app. Here's how to buy ALICE on the Pintu app:
Create a Pintu account and follow the process of verifying your identity to start trading.
On the homepage, click the deposit button and top up the Pintu balance using your preferred payment method.
Go to the market page and look for the ALICE token.
Click buy and fill in the amount you want.
Now you have ALICE tokens!
In addition, Pintu application is compatible with various popular digital wallets, such as Metamask, to facilitate your transactions. Download Pintu app on Play Store and App Store! Your security is guaranteed because Pintu is regulated and supervised by Bappebti and Kominfo.
Besides making transactions, in Pintu, you can also learn more about crypto through various Pintu Academy articles that are updated weekly!
All Pintu Academy articles are made for knowledge and educational purposes, not as financial advice
Reference