Reading Time:
10
minutes
The presence of Bitcoin, with its pros and cons stemming from its disruptive impact on traditional currency, has undeniably influencing and even inspiring the popular culture. To what extent has Bitcoin integrated itself into and become an integral part of popular culture today? Discover more in the article below.
Article Summary
🍕Bitcoin made its debut in pop culture on May 22, 2010, when a programmer named Laszlo Hanyecz exchanged 10,000 BTC for two pizzas, marking its inaugural use in a transaction.
🌏 According to buybitcoinworldwide.com, as of 2023, there are 106 million people who own Bitcoin, with its increasing adoption worldwide partially attributed to its integration into popular culture.
📺 The adoption of Bitcoin in pop culture continues to expand into various fields such as music, film, television, and celebrities who are helping to popularize Bitcoin.
A Brief History of Bitcoin & Its Impact on Pop Culture
Money has served as a medium of exchange for centuries. For instance, the United States dollar, introduced in 1914, remains one of the world's most influential currencies in 2023. Nevertheless, the dollar's value has diminished over time and faced criticism for being subject to centralized control. Then, in 2008, Bitcoin emerged as a cryptocurrency, offering an alternative to fiat currencies by being decentralized and having a limited supply.
Over time, bitcoin has become more widely known and adopted by many people. Citing data from buybitcoinworldwide.com, in 2023, there are projected to be 106 million Bitcoin owners, along with 400,000 daily users and 53 million active traders. Looking back, how did bitcoin become increasingly popular and able to merge with popular culture in society?
The relationship between bitcoin and pop culture began on May 22, 2010, when bitcoin was first used to buy two pizzas. A programmer named Laszlo Hanyecz exchanged 10,000 BTC for them. This pivotal moment set the stage for Bitcoin's influence across various sectors, including endorsements by prominent celebrities and company founders, as well as its incorporation into the music, film, and television industries.
Bitcoin in Movies
The emergence of Bitcoin has created considerable excitement, and its presence has led the film industry to produce several movies, television series, and documentaries about Bitcoin.
Bitcoin: the fastest growing currency in the worlds
The first documentary released to the public discussing Bitcoin was created by the British media outlet, The Guardian. Released in 2013, the documentary was titled "Bitcoin: The Fastest Growing Currency in the World." This 5-minute and 45-second feature tells the story of Amir Taaki, a bitcoin developer, and Mihai Alisie, the editor of Bitcoin Magazine. Both explain how Bitcoin is not controlled by a central authority and can be used to send money anywhere, to anyone, in any amount, without anyone being able to control it.
Alisie even discusses how there used to be a physical Bitcoin (a coin with a Bitcoin logo) that contained a hologram with a code that could be redeemed for a Bitcoin.
The documentary also provides insights into the escalating value of Bitcoin as an asset and briefly touches upon the controversies that surrounded it during that era. It offers a compelling retrospective view of Bitcoin's remarkable journey, making it a captivating watch for those interested in its evolution.
The Rise and Rise of Bitcoin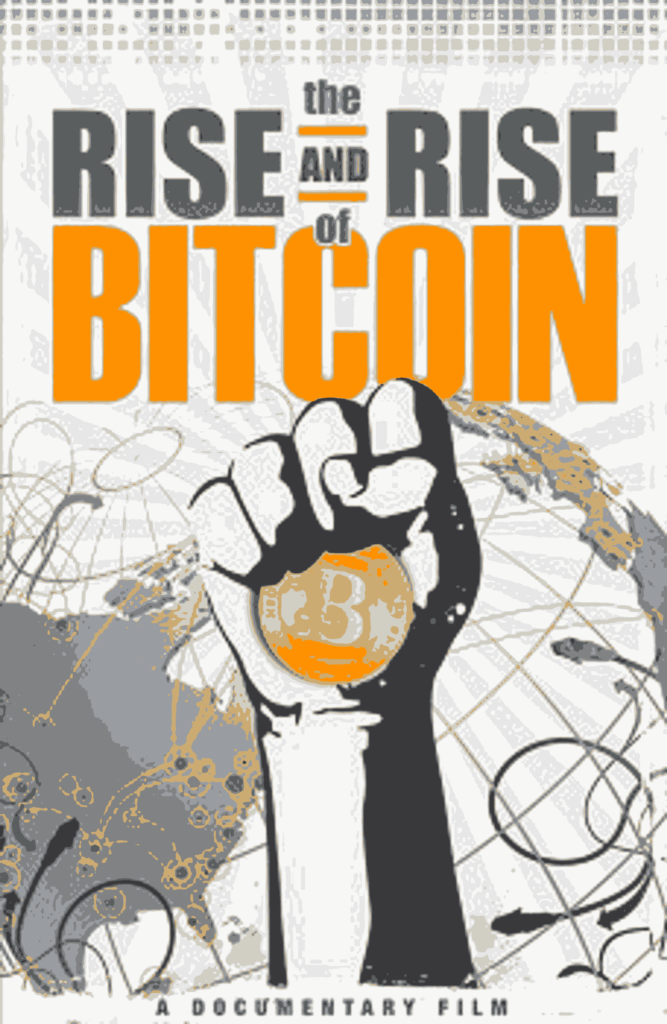 The next documentary is The Rise and Rise of Bitcoin". Directed by Nicholas Mross, the documentary was nominated for Best International Documentary at the 2014 Zurich Film Festival. It features interviews with key figures involved in the historical development of bitcoin, such as Hodlsmith founder Gabriel Sukenik, Ethereum founder Vitalik Buterin, Coinbase CEO Brian Armstrong and even the 43rd President of the United States, George W. Bush.
The documentary tells the story of Daniel Mross, a programmer and avid bitcoin enthusiast. He first discovered bitcoin in 2011, and from there, his interest grew as he continued to follow developments around bitcoin. Eventually, Mross wanted to create a movie that could educate people about the bitcoin financial revolution. He realized this vision by teaming up with his brother, Nicholas Mross, who works as a producer, and they began filming their documentary entitled "The Rise and Rise of Bitcoin". The movie is available on various streaming services.
Banking on Bitcoin
"Banking on Bitcoin" is a 2016 documentary film directed by Christopher Cannucciari. The film features interviews with prominent figures in the crypto industry, such as Charlie Shrem, the founder of the now-defunct BitInstant. Charlie is one of the more controversial bitcoin millionaires. In addition, the film features Wall Street Journal journalist Paul Vigna and Gavin Andresen, a software developer known for his involvement with bitcoin.
The documentary provides a comprehensive look at the complexities and possibilities of bitcoin. Through this film, Cannucciari offers viewers insight into cryptocurrencies, specifically the basics of Bitcoin, who created Bitcoin, and why the identity of its creator remains a mystery. The film also provides some insight into the benefits of using cryptocurrency, with very low costs and less risk in terms of conducting online transactions.
The emergence of bitcoin is closely tied to the financial crisis of 2008, a crisis that began with cheap credit and relatively lax lending that created a housing bubble. When the bubble burst, banks were left holding trillions of dollars in worthless mortgage investments. The effects of this recession caused many people to lose their jobs, their savings, and their homes.
The 2008 financial crisis exposed systemic weaknesses in global financial institutions and led to massive bailouts, contributing to a loss of trust in centralized authorities such as banks and governments. Bitcoin, introduced by Satoshi Nakamoto, is seen as capable of revolutionizing the financial system to become completely decentralized, allowing transactions without relying on centralized financial institutions. The film "Banking on Bitcoin" is an apt depiction of technological innovation and a shift in thinking about the financial systems of the future.
Mencuri Raden Saleh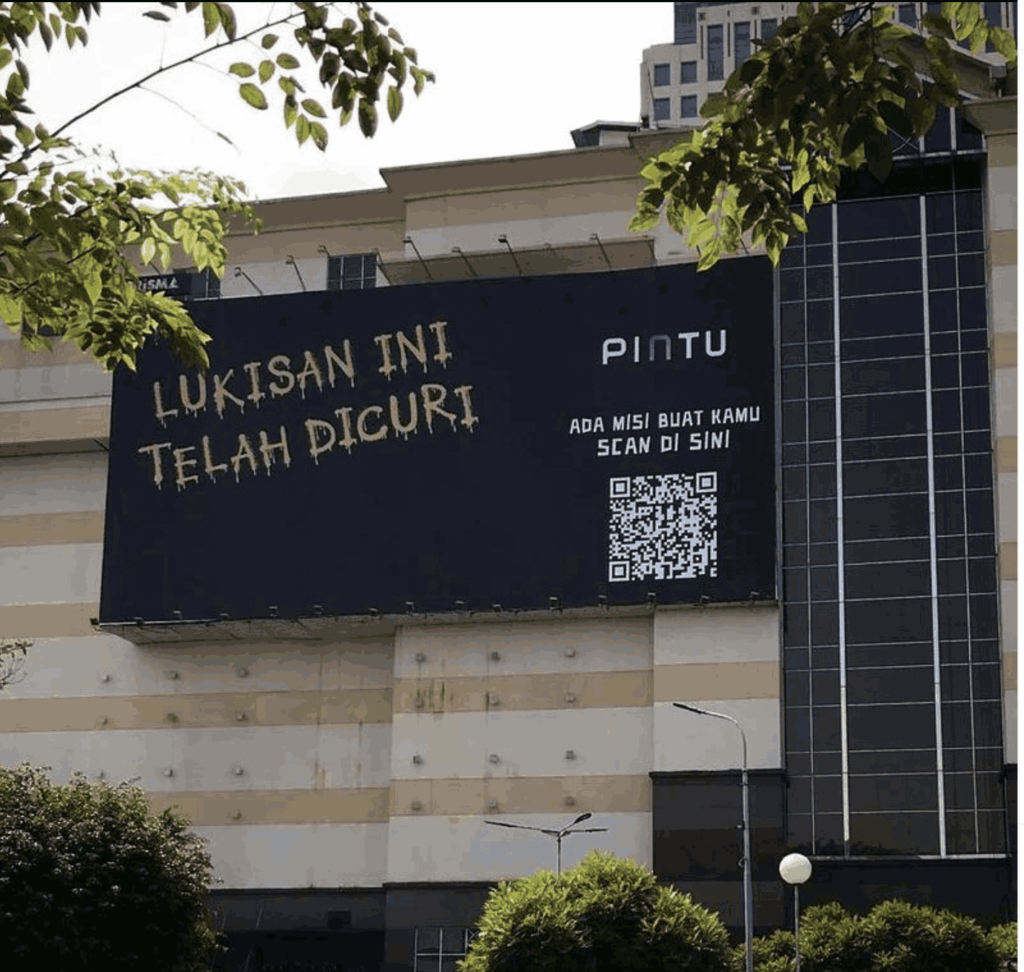 In 2022, a movie titled "Mencuri Raden Saleh" was released. This movie directed by Angga Dwimas Sasongko. The movie features famous actors and actresses such as Iqbaal Ramadhan, Angga Yunanda, Rachel Amanda, Umay Shahab, and Tio Pakusadewo.
This drama and action genre movie tells the story of a group of young people who want to steal a historical painting by Raden Saleh from the Presidential Palace. In one scene in the movie, Angga Yunanda, who plays a hacker named Ucup, is shown making a crypto asset purchase through the PINTU app. At its premiere in August 2022, the film received a positive response, attracting more than 120,000 viewers.
Jeth Soetoyo, Founder & CEO of PINTU, revealed his purpose for including crypto elements in the movie: "Mencuri Raden Saleh is not only entertainment for the audience; this movie can also serve as a new platform for the public to get closer to and learn about investing in crypto assets."
The movie "Mencuri Raden Saleh" is available on streaming services such as Netflix.
Bitcoin in Music
The music industry also inseparable from its relationship with Bitcoin. A row of top musicians such as Eminem, Teejay, to Snoop Dogg.
Eminem
Let's start with veteran rapper Eminem, who has produced thousands of works. In fact, in 2022, Eminem received six Diamond Album Awards as the musician with the most certified singles in history, earning 73.5 million gold and platinum program certifications.
Rapper Eminem has shown an interest in Bitcoin. In 2018, Eminem released a song called "Not Alike." One line of the lyrics reads, "Remember everybody used to bite Nickel, now everybody doin' Bitcoin," and the song has been viewed more than 17 million times on Eminem's YouTube channel, EminemMusic.
Teejay
Next is the musician Teejay, who released a song called "Bitcoin" in 2021. According to Teejay, the song tells the story of a protagonist who brags about his wealth and success, which is tied to his investment in cryptocurrencies like bitcoin. They also mention a romantic partner and a luxurious lifestyle, including owning nice cars and listening to music.
When the song was released, it received a positive response in Jamaica and the United States, particularly in New York and Florida. The music video for "Bitcoin" has been viewed more than 3.9 million times on Teejay's official YouTube channel.
Bitcoin in Television Series
Since Bitcoin came into the spotlight, many artists and filmmakers or TV series creators have tried to introduce the cryptocurrency to the public. Here are some of the most popular TV series featuring Bitcoin.
The Simpsons
---
The Simpsons, one of the most popular and occasionally controversial television shows, included the cryptocurrency Bitcoin in one of its episodes. In either S25E07 or S26E01, released on December 8, 2013 and October 28, 2014, Lisa Simpson asks Krusty the Clown, "Are you broke?" Krusty replies, "Bad luck in the Bitcoin market."
In addition to this episode, The Simpsons has also released various episodes discussing other cryptocurrencies, such as XRP, and even speculating on future cryptocurrency prices.
The Big Bang Theory
---
"The Big Bang Theory," a sitcom that humorously portrays a group of brilliant Caltech physicists with extraordinary knowledge of the universe but limited social skills when it comes to connecting with everyday people, also delved into the world of Bitcoin.
In the 11th season, episode 9, titled "The Bitcoin Entanglement," which aired on November 30, 2017, the series explores the concept of a single BTC reaching a value of $5,000. Interestingly, the characters reminisce about a moment seven years prior, specifically in 2010, when they dismissed Bitcoin as having no value. The episode includes conversations where they contemplate the idea of having invested more in Bitcoin during that time. Notable stars such as Jim Parsons, Johnny Galecki, and Kaley Cuoco, among others, are featured in this episode.
Family Guy
---
Not much different from The Simpsons, the animated series Family Guy never fails to surprise. One of the episodes discussing bitcoin takes place in season 4, episode 11. A snippet of a conversation between husband and wife, Peter Griffin and Lois Griffin, even went viral on social media platforms like Twitter.
In the episode, they discuss their family's finances and the state of their savings. Lois, Peter's wife, seems concerned as she believes their savings are dwindling every day and urges Peter to find a solution to save their family's finances. Peter immediately replies with the word "bitcoin".
When this Bitcoin-themed episode aired on October 1, 2016, the price of BTC stood at a mere $440. Fast forward to September 20, 2023, and the price of BTC has surged to approximately $27,000. It's clear that anyone who listened to Peter Griffin's advice to invest in BTC back in 2016 would have reaped substantial profits by now.
Bitcoin in the Vortex of Celebrities and Important Figures
Michael Saylor
Michael Saylor, the Executive Chairman of MicroStrategy, is part of a company that owns one of the largest amounts of Bitcoin. As of June 2023, they possess 140,000 BTC, worth around $3.8 billion.
Michael Saylor can be considered a Bitcoin Maximalist because he strongly believes in BTC's future potential. Through his social media account, Michael Saylor has outlined three catalysts that could push the price of Bitcoin to reach $5 million, namely:
Approval of spot ETFs: Unavoidable
Bank custody and lending against Bitcoin as collateral
Fair value accounting rules from the Financial Accounting Standards Board (FASB)
Read more: Understanding Bitcoin Maximalists and the Crypto Tribalism Phenomenon
Elon Musk
Who doesn't know the world's richest person, Elon Musk? As of July 2023, he is estimated to have a net worth of $232 billion, making him the richest person in the world. His fortune comes from companies he owns such as Tesla, SpaceX, Twitter (renamed X), Neuralink, and The Boring Company.
Elon Musk and bitcoin are closely linked. Through his company SpaceX, it was reported that they owned $373 million worth of bitcoin at the end of 2022.
In addition, in March 2021, Elon announced in a tweet that his company Tesla would accept payments in Bitcoin. However, just two months later, he announced the temporary suspension of accepting bitcoin payments due to climate change concerns.
Nevertheless, Elon's journey so far, with all its controversial statements, has managed to mobilize the crypto community and become part of the growing investment in cryptocurrencies worldwide.
Snoop Dogg
Another musician who is also interested in Bitcoin is Snoop Dogg. The rapper, songwriter, media personality, actor, and entrepreneur has been investing in Bitcoin since 2012. Back in 2013, Snoop Dogg posted a tweet on Twitter (now renamed to X):
The post was immediately responded to by Coinbase and BitPay, who invited him to work with them.
Snoop Dogg is a global rap superstar who has sold 35 million albums worldwide. In an interview with CNBC, he expressed his intention to sell his music albums that could be purchased with bitcoin, which at the time was estimated to cost 0.01245982 BTC.
Bitcoin in Popular Jargon
The popularity of Bitcoin has ushered in a wave of new terminology into our everyday language. According to the Great Dictionary of the Indonesian Language (KBBI), jargon is specialized vocabulary used in a particular field or environment. Let's take a look at some popular jargon in the crypto world:
Buy the F****** Dip (BTD/BTFD) – An expression used to encourage buying the 'dip', which refers to when the price of a cryptocurrency drops.
Do Your Own Research (DYOR) – Conduct independent research before deciding to invest.
Explain Like I'm 5 (ELI5) – A simple and concise explanation that is easy to understand about crypto.
Fear of Missing Out (FOMO) – The feeling of not wanting to miss out on a trend when seeing others profit.
Fear, Uncertainty, Doubt (FUD) – Negative and/or misleading information.
HODL – A misspelling of the word "hold" that originally came from an online forum where someone mistakenly typed "hold" as "hodl." Now, the term is interpreted as an acronym for "Hold On for Dear Life."
REKT – Derived from the word "wrecked"; it describes significant losses in a trade.
Think Long Term (TLT) – Having a long-term investment horizon.
When Lambo? – Translated into a question, "when will we be rich enough to buy a Lamborghini through this investment?"
When Moon – "When will the price skyrocket?"
GM/GN – Good Morning/Good Night.
Conclusion
Bitcoin, which was initially just a digital currency that faced opposition and was known only to a few, has now experienced remarkable and rapid growth. It has infiltrated various aspects of community life and merged with popular culture, including movies, music, and public figures who have helped drive interest in bitcoin and other crypto assets. The close relationship between bitcoin and pop culture is expected to strengthen bitcoin's position not only as an investment asset, but also as a part of popular culture. It is quite possible that bitcoin will continue to grow in the future and its presence will become unstoppable.
References