Reading Time:
7
minutes
GameFi was one of the few buzzwords that became very popular at the peak of the 2021 bull market along with "Metaverse". At that time, many investment firms poured large sums into various GameFi projects such as Axie Infinity in the hope sector would become the future of the game industry. However, two years later, many GameFi projects that were once successful have now faded. Although the once-popular GameFi applications have faded, many new blockchain-based game projects have emerged. So, what about the new generation of GameFi project? How about GameFi future? This article will explain it in detail.
Article Summary
🕹️ GameFi combines the concepts of gaming and finance in a blockchain-based application. One of the most popular examples of a GameFi project is Axie Infinity.
👹 Bear markets show that the "play-to-earn" (P2E) model has an unsustainable incentive mechanism.
The GameFi industry is moving away from the P2E model to creating more engaging games, with a focus on exciting gaming experiences to attract players sustainably.
🧠 Blockchain-based GameFi projects such as Sweat Economy, Splinterlands, and Alien Worlds prioritize exciting gameplay with NFT elements and financial incentives thrown in for good measure.
⚖️ Despite the turmoil in the GameFi sector, investment and interest in blockchain games remains high, demonstrating the sector's future growth potential.
What is GameFi in the Crypto World?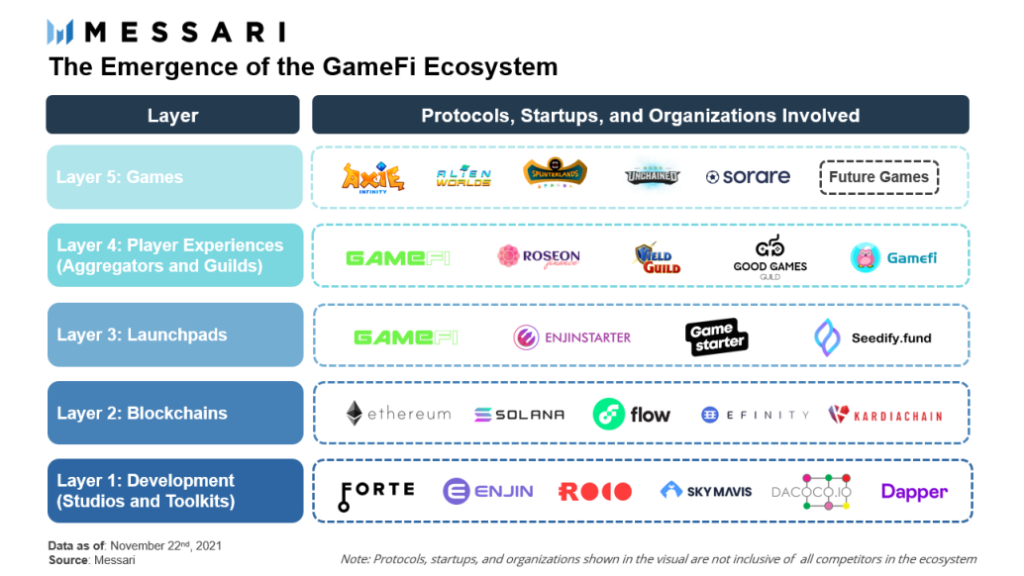 GameFi is a term that combines gaming and finance in the form of Decentralised Apps (DApps). The term GameFi refers to blockchain game applications that incorporate various aspects of crypto as rewards to players.
Initially, the concept of GameFi was popular alongside play-to-earn (P2E) schemes. Games like Axie Infinity popularised the terms P2E and GameFi during the peak of the 2021 bull market. At its peak, the market capitalization of Axie Infinity and the AXS token briefly reached $9 billion dollars.
Read what is Axie Infinity at Pintu Academy.
The applications that fall into the GameFi category itself have a fairly complex system. They involve various DeFi elements such as staking, liquidity providing, and yield farming. However, players only need to provide initial capital and can get rewards through various in-game mechanisms. Essentially, the goal of blockchain-based games is to give back control to players over what they buy and own in the game.
However, the bear market points out a major flaw in many blockchain games: unsustainable reward mechanisms. For context, Axie Infinity's token, AXS, fell about 95% from its highest price.
Learning from Failure in the Bear Market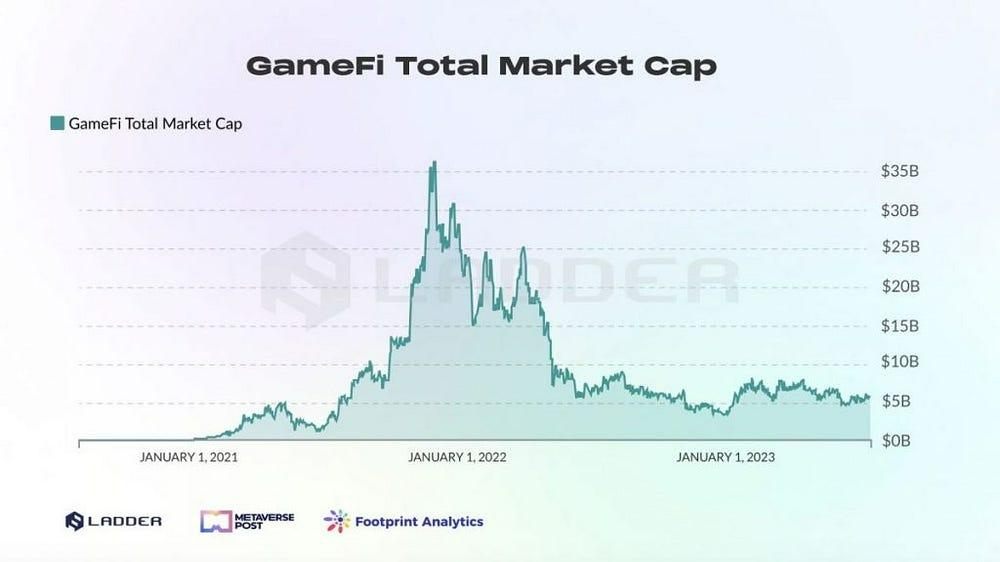 Due to the skyrocketing popularity of Axie Infinity in a short period of time, P2E and GameFi became the new buzzword in the crypto community. Many users flock to many blockchain games with the motivation to earn rewards. The GameFi industry exploded and was worth tens of billions of US dollars by the end of 2021.
However, the bear market showed how unsustainable the incentive mechanisms of various P2E protocols are. Axie Infinity uses a dual token model (SLP and AXS) to reward its users.
This model shows its unsustainability when people who bought Axie NFTs continued to decrease, resulting in a drastic decrease in funds flowing into the Axie Infinity ecosystem. As it continues to decline, the incentive mechanism for Axie players similarly falls. All players slowly lost interest in the increasingly small rewards, moreover, many Axie "bookies" began to appear. In the end, the huge selling pressure drove people away from Axie and the AXS token fell by more than 95%.
In the play-to-earn model, earning rewards is the only motivation for users to continue playing the game. Users don't play the game because it's interesting or exciting but because they get money.
This model is of course unsustainable because as we know, the games that most people play do not rely on economic incentives. Popular games like Mobile Legend, Free Fire, Fortnite, and others are popular because they are fun to play, not because the players are paid. The lesson from the P2E model seems to be catching on with many of the next generation of blockchain games.
New Generation of GameFi Project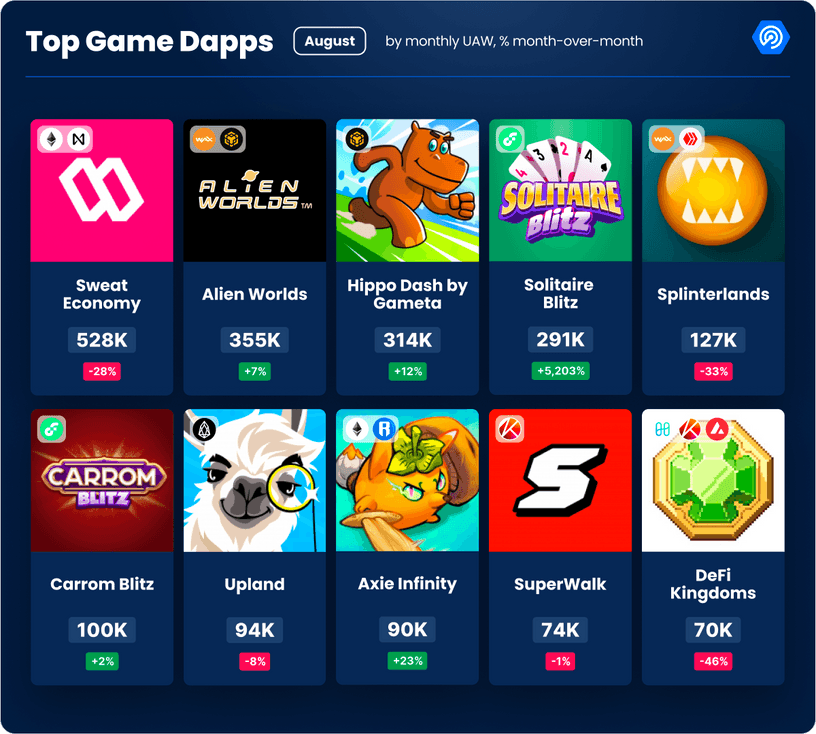 Learning from the P2E model, many blockchain games began to focus on creating fun games first and then integrating financial aspects. The financialization and tokenization of various aspects of the game are becoming less prominent so that players can focus on enjoying the game. As such, development teams are moving away from P2E schemes and focusing on creating engaging gameplay loops but still providing permanent ownership of player assets.
As shown in the image above, GameFi projects with the most users are no longer held by P2E games. Sweat Economy, the app with the highest users of 528K, has a system that is much different from STEPN's M2E (Move-to-Earn) model. In addition, almost all of the GameFi projects above have NFT systems in their games. The P2E elements in these games are also very limited and not at the center of every player's experience.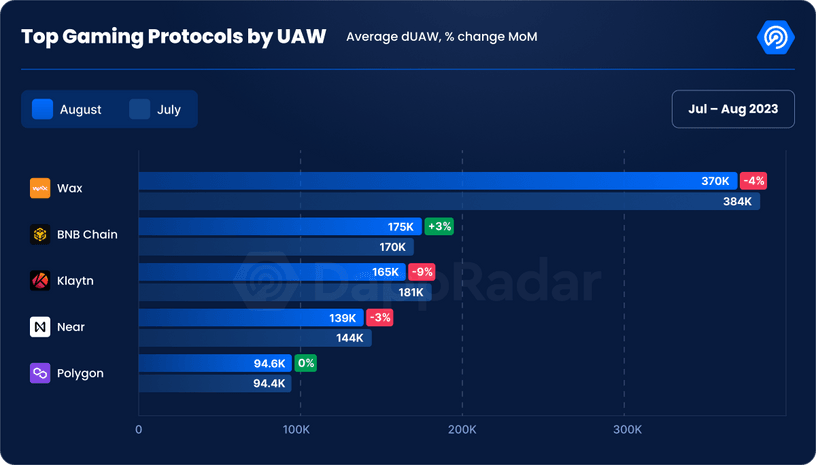 Another interesting thing about the current GameFi world is that the majority of its activity is not happening on Ethereum. Unlike the Ethereum-centric DeFi and NFT, blockchains with the highest levels of GameFi users are Wax, BNB Chain, and Klaytn. This shows there is a special segmentation for GameFi projects.
In addition, one of the latest GameFi project trends is trading card games (TCG). Splinterlands and Parallel fall into this category. Blockchain games with the card deck model are very compatible with cryptocurrencies because each card is an NFT. Players will also automatically get a basic deck of cards to play right away.
DAO-based GameFi Projects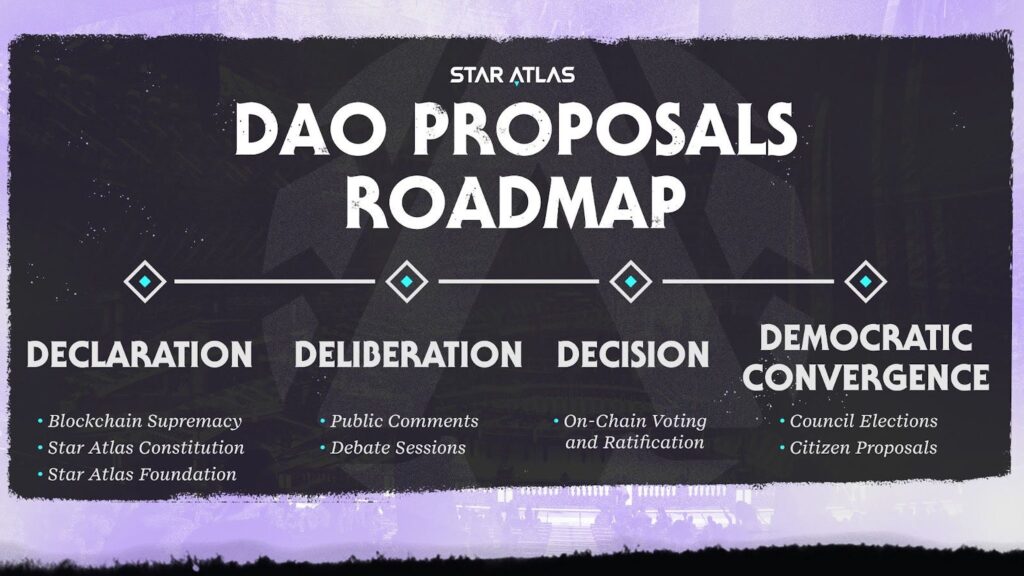 In addition to the increasingly popular TCG type, DAO-based GameFi projects are also emerging. This is a GameFi project with a DAO system since its inception. This decentralization of authority is also in line with the spirit of the crypto industry that gives back control to its users.
Projects like TreasureDAO, Star Atlas, and Merit Circle DAO give users the power to contribute to its future. TreasureDAO and Merit Circle DAO are a new generation of DAO-based GameFi that also acts as a game publisher. Token holders can determine the next game to be onboarded by the project. Meanwhile, Star Atlas' DAO gives users the power to determine the direction of game development, management of the project's treasure, and many other aspects.
Potential and Future of GameFi Project
The GameFi sector has gone through quite a turmoil after the 2021 bull run with various projects reaching very high valuations. Although projects such as Axie Infinity, Sandbox, and Decentraland have faded, many new GameFi projects have emerged. Then, with the P2E model having proven ineffective, these projects began to focus on making games that are fun and can attract many users.
The new generation of GameFi projects no longer makes economic incentives the main offering to attract players. Instead, projects like Splinterlands and Alien Worlds are prioritizing fun gaming experiences and adding NFT elements on top of that. Many GameFi projects have realized that retaining players over a long period of time is more important than attracting players who are tempted by financial incentives.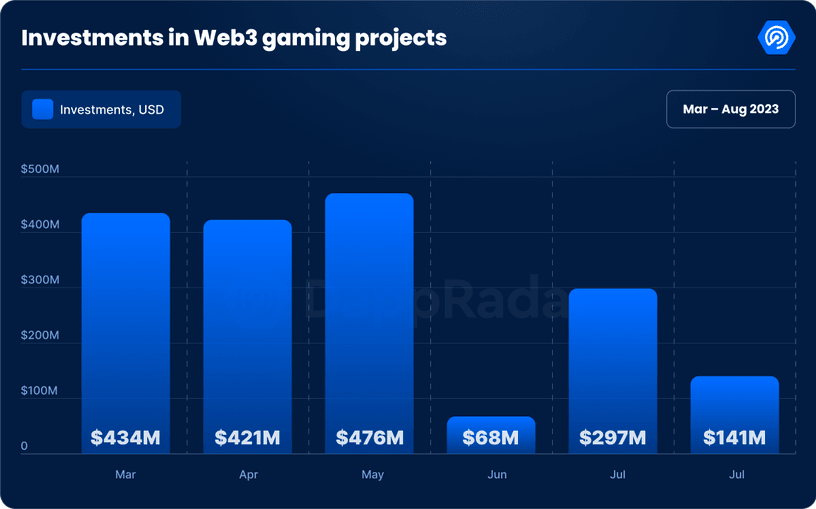 Furthermore, investments in the GameFi project since March are still showing positive numbers. In July 2023, the $141 million figure came from just five investments. The largest investment was made by a16z Games through a $75 million dollar funding program for GameFi projects in the pre-seed stage. This shows that interest in blockchain gaming is still quite high.
Also, with many GameFi projects moving away from the P2E model and starting to focus on the player experience, there is great hope that the GameFi sector will make a comeback. There are still many blockchain-based game projects in development such as Illuvium and Parallel. So, the sector still has an untapped market potential.
Conclusion
GameFi combines gaming and financial elements, with blockchain-based applications that integrate crypto assets into gameplay. The beginning of GameFi's popularity was attributed to the "play-to-earn" (P2E) concept, with Axie Infinity as a prime example. However, the weaknesses of the P2E model became apparent when the bear market exposed the unsustainable reward mechanism. In response, the GameFi industry began to shift away from the P2E model towards developing more engaging gameplay, with the integration of financial elements in addition. While the GameFi sector has had its ups and downs, interest in blockchain-based games remains high, and there is great hope for the sector's future growth.
How to Buy Cryptocurrency on the Pintu App
You can start investing in cryptocurrencies by buying them on the Pintu app. Here is how to buy crypto on Pintu:
Create a Pintu account and follow the process of verifying your identity to start trading.
On the homepage, click the deposit button and top up the Pintu balance using your preferred payment method.
Go to the market page and look for your favorite asset.
Click buy and fill in the amount you want.
Now you are a crypto investor!
In addition, the Pintu application is compatible with various popular digital wallets such as Metamask to facilitate your transactions. Go and download the Pintu cryptocurrency app on the Play Store and App Store! Pintu is regulated and supervised by Bappebti and Kominfo.
You can also learn crypto through the various Pintu Academy articles which are updated every week! All Pintu Academy articles are for educational purposes, not financial advice.
References