Reading Time:
6
minutes
Indonesia has been a hotbed for various technological adoption in the last few years. With a large and budding young generation, this is a fertile ground for cryptocurrency adoption. This is evident in the Chainalysis global crypto adoption index, which shows that Indonesia is one of the leading countries in the world for cryptocurrency adoption. So, what about the 2023 crypto adoption index? Where does Indonesia's crypto adoption excel? This article will explain it in detail.
Article Summary
📈 2023 is a year of recovery for the crypto market after a drastic decline in 2022, with lower-middle-income countries showing a significant increase in crypto adoption.
🚀 Emerging economies are leading the way in crypto adoption, with Indonesia and Nigeria making the top 10 list replacing Russia and China. Furthermore, India, Nigeria, and Vietnam are the top three countries with the highest adoption.
🇮🇩 Indonesia saw a surge in the global crypto adoption index, rising from 20th to 7th place. This increase shows the great interest and acceptance of crypto assets in developing countries such as Indonesia.
⚙️ Crypto assets are used to have many uses in various countries, ranging from avoiding inflation, and remittance transactions, to use in the GameFi and GambleFi sectors.
Global Crypto Adoption 2023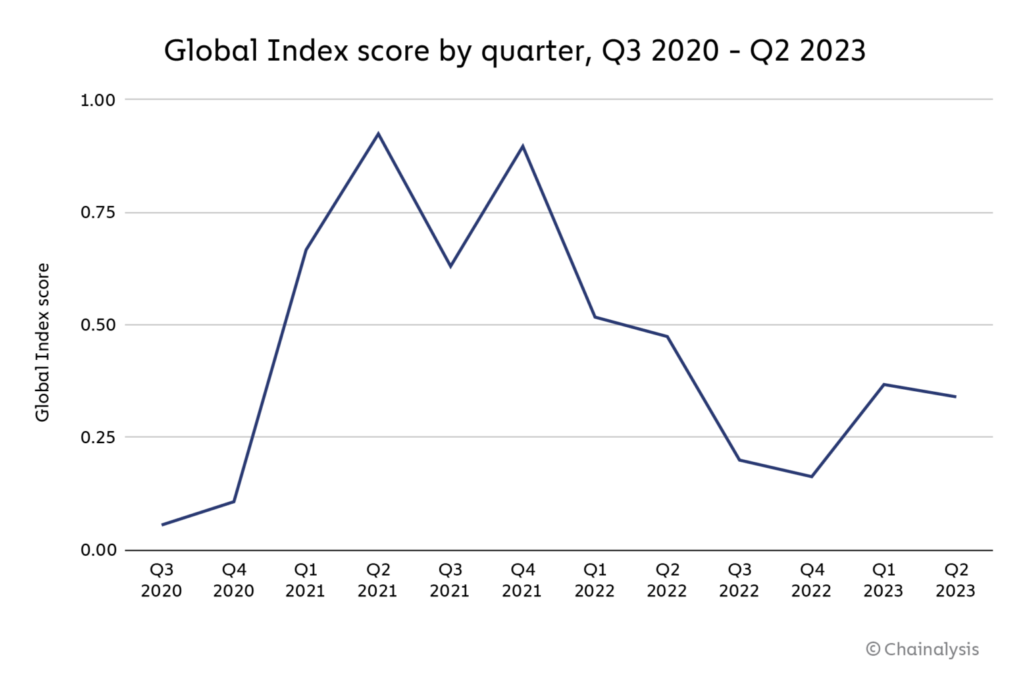 Similar to 2022, cryptocurrency adoption in 2023 was well below the adoption peak in the 2021 bull market. The decline in 2022 is clearly very drastic. However, after the FTX event in the fourth quarter of last year, crypto adoption underwent a strong recovery. This was driven by a strong first quarter for Bitcoin and various altcoin sectors.
In the first quarter of 2023, Bitcoin managed to appreciate by 71.77% and ETH rose by 52.15%. The first quarter of 2023 brought back investor interest in the cryptocurrency industry after the FTX that brought it to its lowest point last year.
Chainalysis' global crypto adoption report compares various transaction volume figures to Purchasing Power Parity (PPP) per capita to get an accurate score.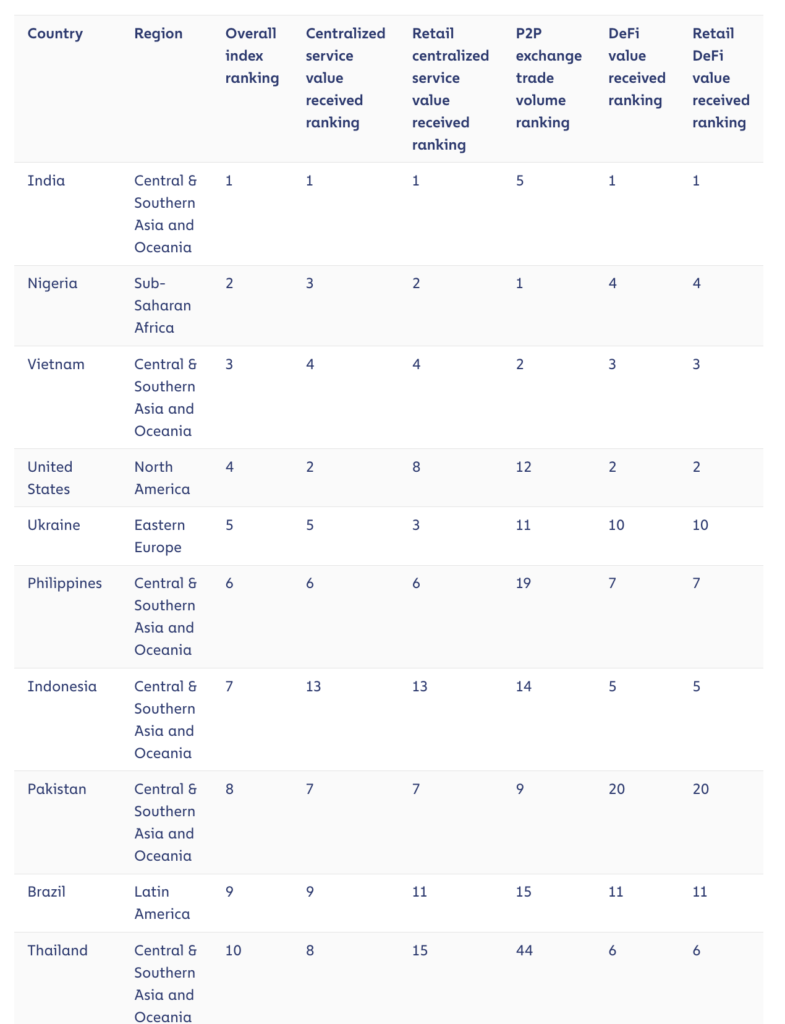 However, this recovery in crypto market adoption is uneven. Some countries are increasing rapidly while others are stagnating or even declining. The country category with the highest increase in crypto adoption is lower middle income (LMI). The countries that fall into this category are mostly in Africa, Latin America, Southeast Asia, and South Asia.
As shown in the figure above, the top 10 countries in global crypto adoption are dominated by LMI countries such as Ukraine, India, Nigeria, and Vietnam. In fact, 7 out of the top 10 countries are from South Asia and Southeast Asia. This shows the significant interest in crypto from the people in these countries.
Comparison with the 2022 Crypto Adoption Index
In the 2022 crypto adoption index, Russia and China occupy the 9th and 10th positions in the crypto adoption index. However, they were replaced by Nigeria which jumped from 11th to 2nd and Indonesia from 20th to 7th. Again, this shows how dominant crypto is in LMI countries.
The only developed country, the United States, managed to move up from 5th to 4th place. This comes from the contribution of very high retail user transaction volumes in CEX and DeFi sectors (second highest worldwide). In addition, the overall DeFi transaction volume in the US is also the second highest worldwide.
Another surprise came from Nigeria in 2nd place with the largest retail P2P (peer-to-peer) transaction volume in the world. India also had the highest transaction volume both in the DeFi and CEX sectors.
How is Crypto Adoption in Indonesia and Southeast Asia?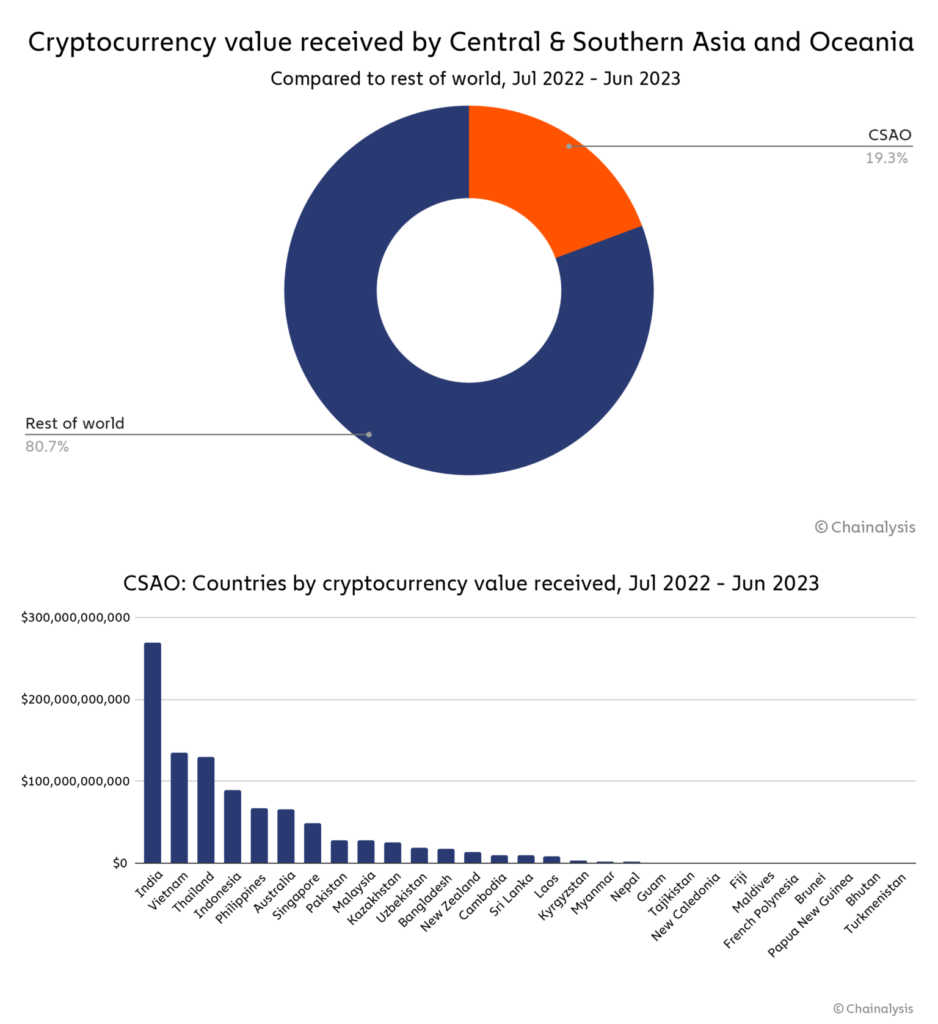 Chainalysis report combines South Asia, Southeast Asia, and Oceania (CSAO) into one region. As a result, the CSAO region accounts for 19.3% of the world's total crypto transaction volume, the third largest in the world. This is slightly below the United States and the European region. This large volume also comes from a variety of sources, including high-volume institutional adoption and retail users in DeFi.
As in the transaction volume ranking above, India leads, followed closely by Vietnam and Thailand. Indonesia surprisingly came in 4th place, beating the Philippines, Australia, and Singapore. Indonesia's excellent statistics are driven by its overall transaction volume, likely coming from the CEX industry.
Some other interesting findings from Chainalysis' report on CSAO regions:
Philippines: Axie Infinity kick-started the adoption of the GameFi industry in the Philippines. Currently, 19.9% of Filipinos who access crypto go to GameFi and GambleFi platforms. This is the highest number in the CSAO region.
Thailand: Thais access DEXs the most compared to other CSAO countries, followed by Vietnam and the Philippines.
Pakistan: Pakistan is experiencing 31% inflation in 2023. Although crypto trading is banned in Pakistan, many transactions are happening P2P as people run to US stablecoins to protect their assets from rising inflation.
India: India imposes a 30% tax on profits made by crypto investors and a 1% tax on all crypto transactions. However, this doesn't stop people from using crypto as many Indian crypto users are fleeing to international and decentralized exchanges.
Read more: Why Asia Could Become the Center of the World Crypto Industry.
The Future of Crypto Adoption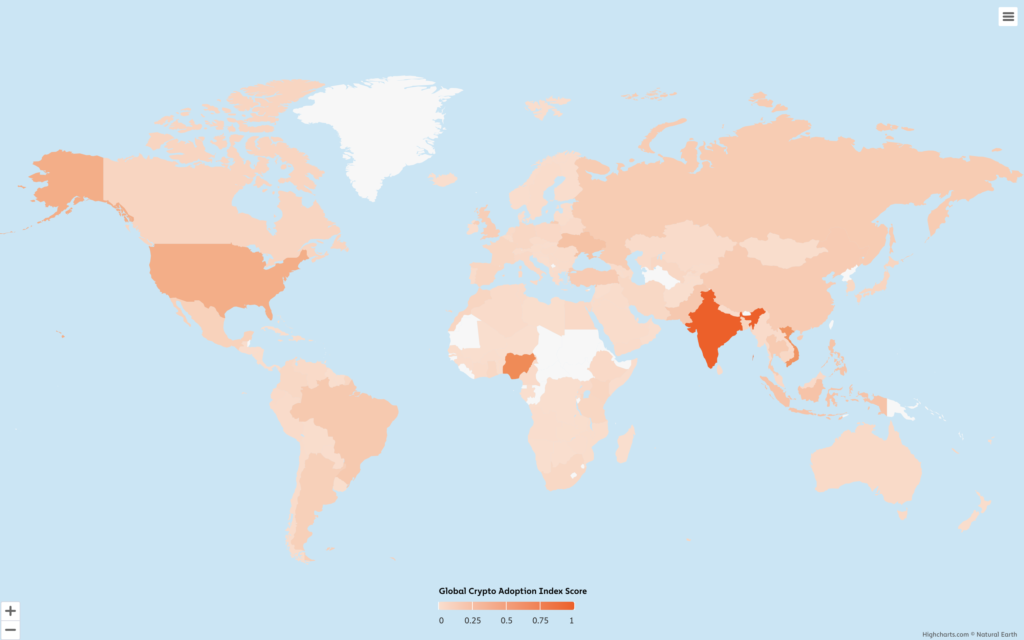 Chainalysis' report on cryptocurrency adoption shows significant growth from 2022. While the prices of most crypto assets are still far from the 2021 peak, the crypto market is not stagnating. In many countries such as Nigeria and India, cryptocurrency use is increasing. In addition, the usability of cryptocurrencies is expanding. Chainalysis shows that each region has a different primary function for cryptocurrencies.
In Mexico, crypto remittances are increasing. Crypto exchange platform Bitso processed $3.3 billion dollars of remittances from the US to Mexico. Additionally, crypto activity in Latin America is dominated by transactions from major exchanges (CEXs).
Meanwhile, people from Turkey, Nigeria, Argentina, and Venezuela are utilizing cryptocurrencies to avoid currency inflation. In this context, US stablecoins such as USDT and USDC are widely utilized by investors. Stablecoins and Bitcoin are also very popular in some African countries such as Ghana, Kenya, and South Africa which have seen a rise in crypto adoption.
Overall, this 2023 crypto adoption report gives hope for the future of the crypto industry. Developing countries are overtaking many developed countries in crypto adoption numbers. In addition, new use cases for crypto are emerging. The bear market has proven not to eliminate the development and functionality of crypto assets.
Recommended Reading: The Potential of Crypto Assets as Global Assets.
Conclusion
Chainalysis' report on 2023 crypto asset adoption reveals a significant recovery. Emerging countries with lower-middle incomes saw a significant increase in crypto adoption. Indonesia showed rapid progress by rising from 20th to 7th place in the global index, illustrating the increased interest and acceptance of crypto assets in the country. Furthermore, there are variations in the use of cryptocurrencies across regions, depending on the economic needs and social conditions of each country.
How to Buy Cryptocurrencies on the Pintu App
You can start investing in cryptocurrencies by buying them on the Pintu app. Here is how to buy crypto on Pintu:
Create a Pintu account and follow the process of verifying your identity to start trading.
On the homepage, click the deposit button and top up the Pintu balance using your preferred payment method.
Go to the market page and look for your favorite asset.
Click buy and fill in the amount you want.
Now you are a crypto investor!
In addition, the Pintu application is compatible with various popular digital wallets such as Metamask to facilitate your transactions. Go and download the Pintu cryptocurrency app on the Play Store and App Store! Pintu is regulated and supervised by Bappebti and Kominfo.
You can also learn crypto through the various Pintu Academy articles which are updated every week! All Pintu Academy articles are for educational purposes, not financial advice.
References